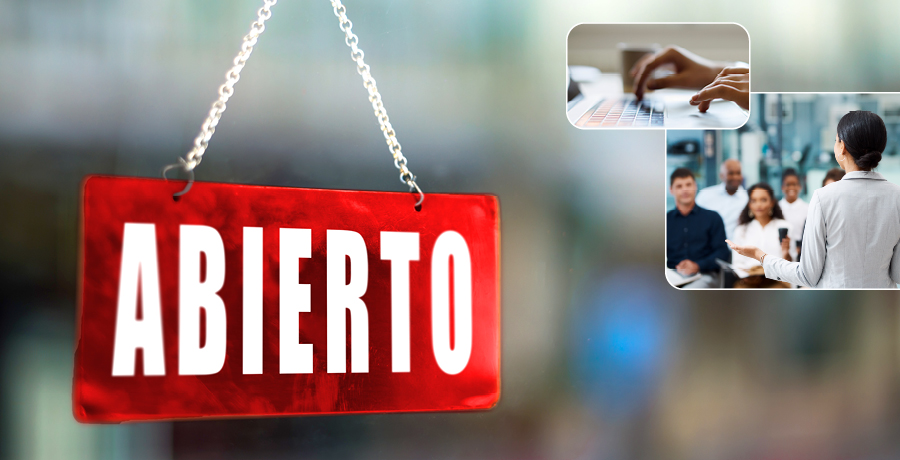 BHCC Launches Enterprise Center for Entrepreneurship and Training in Chelsea
New center will help connect small businesses communities with training, expertise and resources.
Funded by a Congressional Grant secured by U.S. Senator Ed Markey, the center will help connect small businesses communities with training, expertise and resources.
When the COVID-19 pandemic hit in the spring of 2020, small businesses were severely impacted. Even after the initial round of closures, the cost of dealing with wave after wave of the virus, new regulations, adaptation to remote work and new modes of meeting customers, many businesses found themselves unsure of where to turn or how to plan for what comes next. Nowhere was this truer than in the City of Chelsea, Massachusetts: the city's unemployment rate early in the pandemic was more than 25%. And, while no statistics are available for Chelsea, an estimated 44% of all small businesses closed throughout the adjacent city of Boston.
But even as COVID shuttered Chelsea's businesses—and those in neighboring communities like East Boston, Everett and Revere—BHCC was already planning for the region's comeback.
This summer, thanks to a $377,000 congressional grant secured with the help of Senator Edward Markey, BHCC will launch the Enterprise Center for Entrepreneurship and Training (ECET) at the College's Chelsea campus. The first of its kind in Chelsea, the center will provide needed guidance to small businesses in Chelsea, Everett and neighboring communities with an emphasis on Hispanic-owned and operated enterprises. It will provide assistance in multiple languages through online and in-person consultation, and workshops that address talent recruitment, career readiness, business planning, and innovation planning.
"The Enterprise Center for Entrepreneurship and Training represents the kind of workforce development that community colleges like BHCC do best: providing a space that is open to all in the community, from students to workers to small business owners, to learn, to exchange ideas and best practices, and skill up so that they can launch and grow their businesses in their communities," said BHCC Dean of Workforce and Economic Development Kristen McKenna. "As a federally-designated Hispanic Serving Institution with a long history of partnership with the City of Chelsea, we are uniquely positioned to work with small businesses in the largest Hispanic community in Suffolk County."
Planning for the ECET began in late 2020 when a group formed to complete the Chelsea-Everett Small Business Needs Assessment, a comprehensive study of small business activity and opportunities in those communities. Partners in the group were the Metropolitan Area Planning Council, the cities of Chelsea and Everett and College leadership, including Dean of Workforce and Economic Development Kristen McKenna, Chelsea Campus Associate Provost Alice Murillo, and Dean of Professional Studies Austin Gilliland.
Prior to the pandemic, Chelsea and Everett had vibrant small business communities as evidenced in the Bunker Hill Community College Small Business Needs Assessment (December 2020). Chelsea and Everett have over 2,300 small businesses that employ over 14k people in the community and produce over $5 billion in sales volume.
As in many communities, the pandemic has made small business growth a challenge. The mission of BHCC's new Enterprise Center for Entrepreneurship and Training is to bring the critical players – business owners, workers, government, and NGOs together as the cities' small businesses recover.
What the group found was a significant base of more than 2,000 small businesses across Everett and Chelsea—in sectors as diverse as restaurants and stores to logistics companies and law firms—with a collective $5 billion in total sales volume. Their research found that what those businesses wanted was access to expertise, training, and advice on best practices, and to a pipeline of skilled, educated and motivated workers. These are exactly what the ECET aims to provide.
When the center launches later this year, it will offer two workshops. One will be an overview of entrepreneurship aimed at individuals who hope to launch their own businesses someday. The other offering will be a boot camp for existing businesses, a kind of crash course in marketing, human resources and planning across industries.
Stay tuned for more information about the ECET, its grand opening later this year, programming and more! Sign up for the Division of Workforce and Economic Development newsletter at bhcc.edu/workforce