Back to Student Handbook Main Page
Support Services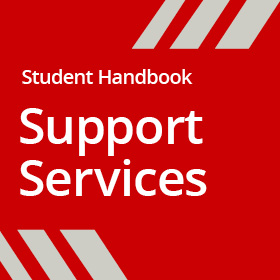 Chelsea Campus Student Access and Success Center
The Chelsea Campus Student Access and Success Center is the hub for all student services offered at the Chelsea Campus. Through this Center, you can register and pay for courses, complete course placement assessments (Accuplacer) and access advising and academic support services. The Center offers tutoring in mathematics, English and biology. Tutoring in other academic areas is also available by arrangement. The Center also offers student achievement workshops in career exploration, goal setting, time management, learning styles, notetaking strategies, study skills and test-taking skills.
You can learn more and find the latest hours on the SASC web page.
---
Disability Support Services
The College provides support services for students with documented disabilities. These services may include assistance with academic-related activities such as classroom accommodations, test accommodations and assistive technology use. In addition, Disability Support Services offers academic advising and literacy support.
The services are designed to promote interaction among several existing campus resources and personnel. Students are actively involved in decision making regarding their specific needs and are encouraged to work toward increased independence and self-sufficiency.
Eligibility
Eligibility for services depends on documentation of the individual's specific disability, consistent with the Americans with Disabilities Act of 1990(ADA), and Section 504 of the Rehabilitation Act of 1973. Students are responsible for self-identifying and providing appropriate documentation of their disability and need for accommodations. After records are received, students meet with staff to discuss resources and reasonable accommodations. If you suspect you may have a learning disability, you may request referral for screening and assessment through Disability Support Services. Referrals are made to area agencies and specialists depending on student needs.
Available Support Services
Once eligibility has been determined, support services may include:
Preadmission advising
Testing accommodations
Assistance with advising and registration
Referrals for diagnostic testing
Referral for academic support services
Consultation with professors
Literacy support
Notetaker, reader and/or scribe
Alternative format text
Educational Coach
Policy for Individuals with Disability
Bunker Hill Community College is committed to providing equal access to the educational experience for all students in compliance with Section 504 of the Rehabilitation Act and the Americans with Disabilities Act and all reasonable academic accommodations, aids and adjustments. If you have a documented disability and require an accommodation, aid or adjustment, speak to your instructors and contact Disability Support Services to obtain appropriate services. Disability Support Services is located at Room E222, and can be reached by calling 617-228-2327 or TTY: 617-242-2365.
---
Evening and Weekend Support Services
The College offers support services Monday through Thursday evenings to address the needs of evening students. Enrollment Management and Admissions, Student Central, Advising and Assessment are open Monday until 7 p.m., Wednesday and Thursday until 6 p.m. Some offices are also open on weekends. Please see specific offices for their schedules.
The Academic Computing Center, Audio-Visual Center, Center for Self-Directed Learning, Library and Learning Commons, Language Lab, MathSpace and the Tutoring and Academic Support Center are open evenings and weekends on the Charlestown campus including the H-Building during the fall and spring semesters, and Monday through Thursday evenings during summer sessions. BHCConline is available 24/7.
The College schedules evening workshops such as Test-Taking Strategies, Choosing Your Major, Stress Reduction and a College Transfer Evening each semester. In addition, the College offers evening cultural activities for students, including a poetry series and musical entertainment.
Enrollment Management and Admissions Offices are located on both campuses and are open evenings, and on weekends on the Charlestown Campus during the fall and spring semesters. Services available include assistance with admissions, program information, assistance with transcript requests, change of program forms, degree audits, advising and registration.
The Student Payment Office in Student Central is open Monday through Thursday evenings to assist students with account information and the purchase of parking permits. The Student Payment Office is open for scheduled Saturday registrations.
The Bookstore has extended evening hours during the beginning of each semester and is open on Saturdays during the fall and spring Semesters. BHCC students can now order their textbooks online to have them shipped or for easy pick up with no waiting in line. For store hours and inquiries, visit the bookstore's website or contact the bookstore at 617-241-5161.
The Café, located in the Main Lobby of the Charlestown Campus, is open Monday through Thursday evenings and on weekends during fall and spring semesters.
---
Health Services
Bunker Hill Community College offers health services to promote health education and wellness in an atmosphere that is welcoming and culturally sensitive. The Health Services Office promotes wellness through health education awareness programs and individual health counseling.
The Health Services Coordinator provides emergency first aid, treats minor injuries and common illnesses, and is available to discuss the individual health concerns of students, faculty and staff. The Coordinator acts as a resource for information on immunizations, student health insurance, referrals to local healthcare providers and health screenings.
If you are enrolled in a health career program, you must send the required student medical records to the Health Services Office for review and clearance before you can attend clinical.
The Health Services Clinic, located at Room E145, is staffed by a registered nurse. Walk-in service and urgent care are available during clinic hours only.
Clinic Hours
Monday, Wednesday and Thursday: 10:30 a.m. – 3:30 p.m.
Tuesday: 11 a.m. – 6 p.m.
Friday: 9 a.m. – 1 p.m.
All Health Services Office contact is confidential. In the event of an emergency, dial the Emergency Phone Extension, 2222, from the nearest College phone.
For more information, visit the Health Services Office, Room E154, or call 617-228-2274.
---
The MathSpace
The MathSpace is a newly renovated mathematics resource center available to students enrolled in developmental mathematics courses at BHCC. The primary goal of the MathSpace is to help students become independent learners and achieve academic success in mathematics.
Located in rooms M101, M102, M103 and M105, the MathSpace is equipped with 60 internet enabled Windows 7 workstations as well as a smart board set up. You can use these workstations to complete your assigned exercises, homework, and other math projects on MyMathLab, an online interactive educational tool for mathematics. If you bring your own headphones, you can also use the MathSpace to access video lectures, animations and multimedia textbooks to improve your understanding of course content. In addition, you can learn to use more specialized math software, such as Mathtype, TI interactive, Sketchpad, Derive, and Mathematica, during visits to the MathSpace.
The MathSpace has several desks you can use when studying in a group or on your own. You have access to the support services provided by staff including one-on-one training and support in the use of MyMathLab, getting tutored on questions in MyMathLab, and developmental math review sessions. Also, some of the math faculty hold office in the MathSpace, making it easy to meet with them during regular faculty consultation hours.
The MathSpace is open seven days a week during the regular academic year. For the latest hours, visit the MathSpace web page.
Please note: To protect equipment housed in the MathSpace, please do not bring any type of food or drink during your visit.
For more information, please contact mathlab@bhcc.mass.edu.
---
Language Lab
The Language Lab at BHCC provides a high-tech learning environment along with a knowledgeable tutoring staff to guide you with any aspect of language learning, from speaking, listening and pronunciation, to reading, writing, grammar and mechanics. The Lab has language learning software programs and tutors, as well as computers for student use. The objective of the Lab is to help all students improve their language skills.
The Lab offers the following support services:
Individual tutoring sessions
One-hour interactive software, grammar, writing and technology workshops
English 095/111 and ESL practice exit exams
ESL IP completion
TOEFL and IELTS practice materials and tutoring
Foreign language textbook software and tutoring
The Language Lab is in Room E144. For more information about the Lab, call 617-228-3440. For hours, visit the Language Lab website.
---
Senior Academic Counselors
BHCC has two Senior Academic Counselors who are available to all students for wide range of counseling and support services. These include:
Psychological counseling/support
Crisis intervention
Referrals to outside agencies and internal support services
Advocacy for students and student issues
Courses, workshops and programs
BHCC's Senior Academic Counselors are Sara Satham, who can be reached at 617-228-2112, and Sartreina Dottin, who can be reached at 617-228-3468.
---
Single Stop
Single Stop is an initiative at Bunker Hill Community College that connects students to state and federal financial resources and local community services. Its purpose is to help students surmount economic barriers, continue with their education and move toward economic mobility. Single Stop's goal is to end cycles of poverty.
Single Stop provides aid in applying for benefits such as the Supplemental Nutrition Assistance Program (SNAP), offers referrals for those with housing issues, helps with health insurance applications, and advocates on behalf of students with the Department of Transitional Assistance. The Greater Boston Food Bank has partnered with Single Stop to sponsor monthly Mobile Markets for our campus community and veterans. We have a food pantry on campus and we have also been fortunate to be working with food rescue programs such as Food Link and Food for Free, which support our students through their continued donations.
For more information, visit the Single Stop office in Room D 2016, call 617-228-3330 and view the Single Stop web page for updates on programs.
---
Student Emergency Assistance Fund
Bunker Hill Community College has established the Mary L. Fifield Endowed Student Emergency Assistance Fund. The purpose of the fund is to provide monetary relief to students for emergencies that occur during the semester and may cause them to drop out. Applications will be accepted after the end of the schedule adjustment period for the fall and spring semesters. The fund does not support tuition, fees or books.
---
Textbook Assistance Program (TAP)
Through the BHCC Textbook Assistance Program (TAP) you can apply to borrow new and used textbooks for a semester free of charge. Any currently registered student with a valid student ID may participate in the TAP.
A few guidelines:
You must be registered for the semester in which you are borrowing textbooks. You must submit proof of registration along with you TAP application.
You may submit only one application each semester; the application may contain only textbooks required for the classes being taken that semester.
Books are available on a first-come, first-served basis. You may borrow only one book at a time.
The program opens two weeks prior to the start of classes each semester during the academic year, and on the first day of classes during the summer sessions.
All textbooks must be returned to Student Activities (Room D106H) on or before the last day of final examinations each semester.
TAP was developed by the BHCC Alumni Association and is made possible by the generous support of the BHCC Student Government Association and the BHCC Foundation.
For more information, contact the Student Activities Office in Room D106H.
---
Tutoring and Academic Support Center (TASC)
The Tutoring and Academic Support Center (TASC) supports and enhances learning and academic success by offering a variety of traditional and nontraditional services to Bunker Hill Community College students in a student-centered atmosphere.
The TASC offers tutorial assistance, small group workshops, and academic support to students enrolled in credit-bearing courses. A wide range of services support your work in basic academic skills as well as on course-specific work. You can register for weekly individual and group appointments.
Major areas of concentration on the Charlestown Campus are English and writing, English as a Second Language (ESL), mathematics (college level and higher), computers, science, business, behavioral science, human services and early childhood education. Other subject areas may be added on an as-needed basis.
The TASC also offers 18 student computer stations where you can type papers, do research or access the internet during regularly scheduled hours at the TASC.
The Tutoring and Academic Support Center is located at Room E174. Visit the TASC web page for hours.
The TASC is closed during semester breaks. Please note that tutors are not available when classes are not in session.
For more information, contact the Center at 617-228-3467 or at tasc@bhcc.mass.edu.
---
Veterans Center
Bunker Hill Community College Veterans Center is committed to providing veterans, active duty military, Guards/Reservists, and their eligible dependents with a smooth transition to college and a successful educational experience. The Veterans Center staff provide specialized customer service for student veterans and serve as advocates within the college community as well as with our community partners. The Veterans Center staff thanks you for your military service and we are honored to assist you as you pursue your academic goals.
Students who wish to apply for educational benefits must contact the VA Certifying Official in the Veterans Center. If you are receiving educational benefits, you are required to attend classes and maintain satisfactory academic progress to continue them. Also, you must notify the Veterans Center of any changes made to your enrollment status.
The Veterans Center staff provides the following services:
Support and advocacy for veteran students
Assistance in solving problems related to education
Advice regarding VA Educational Benefits
Certification to the VA for each semester of enrollment and any change of enrollment
Referrals to university resources and other agencies
Verification of pursuit of training
Assistance with credit for prior learning
Please come and visit the Veterans Center located in Room B206. You may contact us by phone at 617-228-3213; email at veteranscenter@bhcc.mass.edu or fax at 617-228-3212.
---
The Writing Place
The Writing Place is a tutoring service sponsored by the English Department. Students come to the Writing Place to work with peer tutors on specific writing tasks, including brainstorming ideas for college writing assignments, organizing rough drafts, revising, editing, and doing library research. The Writing Place tutors are students who have successfully completed their College English program and are taking a course that prepares them to provide effective feedback and assistance. Specific materials and computer resources are available in the Writing Place to supplement class instruction and develop composition skills. The Writing Place, located in Room E142, is open during the fall and spring semesters, Monday through Friday. Hours may vary, depending on tutor availability. Students are encouraged to visit the Writing Place in Room E142 to schedule weekly sessions with a tutor. Tutoring sessions can also be arranged by contacting the Writing Place at 617-936-1948.