Revolutionary Moments - Art, the Word, and Social Action
Dr. Robin M. Chandler - BHCC's Distinguished Artists Scholar in Residence

October 4, 2018 - January 10, 2019
ARTIST STATEMENT
I am a person of mixed heritage and have been a practicing artist-scholar, educator, and consultant for 40 years in the U.S. and abroad. Since the late 1980's my work has focused on social and spiritual commentary-themes of peace, freedom, and using art to inspire, stimulate and promote thinking concerning unity and peace-building from the local to the global.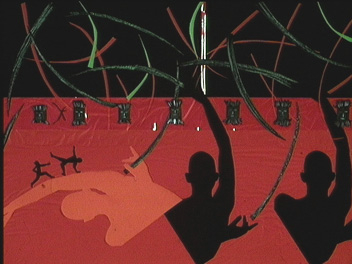 Crossing disciplines, I combine work as a social scientist and artist in lecturing and published works on how art worlds function and dysfunction globally.
For the last decade I have experimented with multimedia applications and digital technology to explore studio production and 2 and 3-D projects. As a collage artist, I use sketches, hand cut 'drawings', photographs, digitized images, and handmade papers to construct traditional and digital collage works, some large scale. My technique- "drawing with scissors" -uses scissors to cut preliminary sketches freehand, rather than with pencil. I have produced several "series" (7 or 9 works in each series) such as- The Seven Valleys, a meditation on spiritual journeying produced in France at La Muse Artist residency in 2009, the Peace Series, a set of nine collages that demonstrated humanity's evolution in the stages of peace and war, or the Stone Tablets series (2014). The reconstruction of original "handmade" works and digitally generated images allows for a discovery of new means for expressing color, form, texture, and media and to explore socially relevant ideas. Examples are "Rapid Response" (2001-U-Mass, Amherst), a group exhibition on post "9-11" to a return to 'series collages' in "Stone Tablet Series #2-Kenya"(2008, above). My themes cover broad global issues of peace making, the meaning of freedom, and transcultural heritage and identity.
In 2010, my work -"Capoeira"- became the book cover of Women, War, and Violence: Personal Perspectives and Global Activism (Palgrave), a book I also co-edited. Frequently Chandler's visual works also have accompanying poems to expand the social commentary impact and to highlight issues of identity and include her poem "Siouxjewgermanscotblack (cherokee)" (Other Tongues: Mixed Race Women Speak Out, Inanna Publications, Inc. 2010).
BIOGRAPHY
Robin M. Chandler, Ph. D holds an extensive publication and exhibition record (100+) since 1978 with a focus on social movements, arts and culture leadership, gender equality, post and neo-colonial studies, arts and culture, and race and cultural competency in nations undergoing rapid social, political, and economic change. Primarily a collage and multimedia artist, Chandler has exhibited in the US and Puerto Rico and abroad and is represented in many corporate and international private collections. An early memoir The Beautiful Flight Toward the Light: Reflections of An Artist's Life (Australian Journal of Baha'i Studies, 2000) documents her career as a professional artist integrating spiritual principles into her work.
Dr. Chandler has taught at the University of Witwatersrand (Johannesburg), Massachusetts Institute of Technology, Wellesley College, Tufts/Museum School, Simmons College, and was a tenured professor at Northeastern University. As a practicing artist she is affiliated with the U.S. State Department's Art in Embassies Program. A social scientist and gender specialist, Chandler's research in international development is focused on the inclusion of girls and women into leadership by overcoming the crisis of gender-based violence.
Globally-seasoned as an artist-in-residence in France, the U.S., and South Africa, her work as a multimedia visual artist is being featured in a solo exhibition in the fall of 2018 at Bunker Hill Community College and as a curator of "Revolutionary Moments II" in the spring of 2019 as part of her residency.
One Artist's Journey—Reclaiming the Lost Tradition of Cambodian Ceramics
Yary Livan
October 22, 2018 - January 19, 2019
ARTIST STATEMENT
Being an artist and a ceramist has been a passion of mine since I was a child. When the Khmer Rouge took over Cambodia, they killed many people who had education and experience. I was fortunate to remain alive by pretending that I didn't have any education. I said I wanted to learn to draw and to teach others. This was my journey.
In Cambodian culture, the ceramist apprenticeship has been largely lost.Few ceramists of the ancient tradition remain. As a result, it is my desire to continue to share the history and beauty of this art with others--regardless of their age or background.
My philosophy is that everyone who has the will to learn something can acquire knowledge and skill.After assessing individual levels and experience, a teacher needs to adapt their way of teaching so that the student can receive information. I believe that every person is an artist inside and has some artistic ability. It's my job to bring these traits out of each student I teach and to encourage everyone to explore their creativity fully.
I want to contribute to the positive development of the educational community by providing opportunity and an environment where people feel confident in themselves; where they are able to collaborate with others and learn to grow.
I work hard to keep the tradition of Cambodian Ceramics alive, and to share this art with everyone. It's important to be a positive influence and to be a part of change for the better. When people are able to achieve something that they didn't know they could do, it inspires them to continue, and to do even more.
BIOGRAPHY
Yary Livan is a surviving master of traditional Cambodian ceramics and kiln building, which date back to the sixth century. His work draws on a rich heritage including influences from ancient imperial Khmer kiln sites such as Angkor Wat, and incorporates traditional Cambodian imagery and relief carving. His ceramic pieces are highly regarded for their historical integrity and artistic merit, and have been displayed in exhibits throughout the United States and Cambodia.
Born in Battambang Province Cambodia, Livan began his studies the Royal University of Fine Arts in Phnom Penh in 1971, where he majored in ceramics, but also trained as a sculptor, painter and architectural designer. When the Khmer Rouge seized power in 1975, artists and intellectuals were persecuted. Having eluded the Pol Pot regime and after enduring many hardships, he came to the United States in 2001. Livan is recognized as one of only three master ceramists to have survived the genocide, and is the only one known to be living in the U.S. He resides in Lowell, Massachusetts.
Since immigrating to the United States, Livan has led numerous workshops, completed a three year residency with Harvard University and taught at the School of the Museum of Fine Arts Boston. Not only has the artist taught students traditional Cambodian and contemporary sculpture, but he has worked with a group of young artists to create bas-relief ceramic tiles for a community park in Fields Corner Dorchester, Massachusetts, as well as painting a mural for Ronan Park, also in Dorchester. In 2005, he was honored with a National Arts and Humanities Youth Program Award from the President's Committee on the Arts and the Humanities.
Other awards include a Mima Weissmann Award for the Study of Ceramic Arts (Ceramics Program, Office for the Arts, Harvard University), and a 2010 Massachusetts Cultural Council Traditional Arts Apprenticeship (to teach architect Samnang Khoeun the design, carving, molding and casting of traditional Cambodian ornaments). Livan has also worked as a master mold maker and modeler for the New England Sculpture Service Foundry and, in 2010, was an Instructor for Arts Incentive Program, United South End Settlements. In 2012, he received a prestigious Massachusetts Cultural Council Artist Fellowship and became an adjunct professor at Middlesex Community College, where in addition to ceramics, he teaches watercolor and oil painting.
At the same time, in the summer of 2012, Livan collaborated with his friend and fellow master ceramist Proeung Kang (professor at the Secondary School of Fine Arts, Phnom Penh, Cambodia) to build a traditional wood-fired kiln on the grounds of the Lowell National Historic Park. This smokeless kiln is able to achieve effects not possible in a gas fired kiln which further enhance Livan's ability to reclaim traditional Khmer ceramics and enables him to pass on a legacy of art making and traditional artistic techniques to younger generations and posterity.
On October 1, 2015, Livan received the Award from the National Endowment for the Arts National Heritage Fellowships, recognizing his artistic excellence and supporting his significant contribution to traditional arts and culture. As a NEA National Heritage Fellow, he continues to teach and exhibit regionally, nationally and internationally.