‌
Featured Event: Angela Davis
"Institutional Racism in the Prison & Criminal Justice System"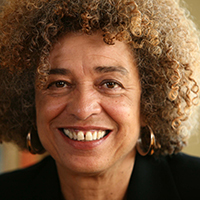 ‌University of California Santa Cruz Distinguished Professor Emerita and author of ten books, Angela Davis is deeply involved in movements for social justice around the world. In the early 1970s, Davis spent eighteen months in jail and on trial after being placed on the FBI's "Ten Most Wanted List." Today, her work focuses on the social problems related to mass incarceration and the criminalizing of communities affected by poverty and racial discrimination. Dedicated to the dismantling of the "prison industrial complex," Davis urges us to consider the future possibility of a world without prisons in her presentation, "Institutional Racism in the Prison & Criminal Justice System."
Thursday, March 29, 2018
Program begins at 1 p.m.
BHCC Gymnasium
Charlestown Campus

Refreshments will be served.
March 1–31, 2018
WOMAN BE! Paintings by Janet Cormier
Artist, poet and activist Janet Cormier returns to BHCC with a set of new paintings. See these deeply human portraits of the public and private selves of women that honor the complex lives and shared experiences of women everywhere.
Library and Learning Commons
Charlestown Campus
Hidden Histories/ Modern Frontiers
Interact with this expertly curated publication and digital resources exhibit from the BHCC collection that illustrates how women have shaped the past and the present, and how they are also mapping our future.
Second Floor E Corridor and
Library and Learning Commons
Charlestown Campus
Women's History Month at BHCC–A Comprehensive Research Guide
Learn more! Get acquainted with print and electronic resources available through the BHCC Library for study of the important contributions to American history by women.
http://libguides.bhcc.mass.edu/womenshistory
March 5–8, 2018
The Invisible
Inspired by Me Too and Time's Up, this original collaborative BHCC multimedia installation tells the stories of the women who educate and lead our communities, and hope for more visibility. It reflects on, interacts with and projects on these invisible lives under the skin of our city and invites the public to pause, to look at faces we see every day but don't look at, to listen to voices we hear everywhere, but don't listen to, and to walk through it to become a part of it.
Second Floor G Lobby, Charlestown Campus
Thursday, March 8, 2018
Voices of the displaced
Participate in a discussion with women artists from the disPLACED Gallery Exhibit as they take on current issues facing women today—advocating for social justice, immigration reform and equal pay.
With Gloria Carrigg, Janet Cormier and Deta Galloway
6 p.m., Mary L. Fifield Gallery
Charlestown Campus
Tuesday, March 20, 2018
Daddy Issues: Trauma, Grief & Love in Edwidge Danticat's The Dew Breaker and Beyonce's Lemonade
Join in a panel discussion that will explore how the female characters of this year's One Book navigate the complexities of their family dynamics.
Moderated by Berlisha Morton, Adjunct Professor
1 p.m., A300 Lobby, Charlestown Campus
Friday, March 23, 2018
Chinatown Presents: An Evening with Authors Anelise Chen and Q.M. Zhang
Connect with Kaya Press authors Anelise Chen and Q.M. Zhang as they come together to discuss trauma, memory and writing. Both authors push the boundaries of genres with their hybrid and experimental text that refuse
to be placed in simple categories such as memoir, novels, self-help and more.
Moderated by Proshot Kalami, BHCC's author, educator and playwright
Chinatown Presents is generously supported by Frank and Eleanor Pao
6:30 p.m., BCNC Pao Arts Center
99 Albany Street, Boston, MA, 02111Month 2018
Tuesday, March 27, 2018
Family Feud: Redemption, Forgiveness & Love in Edwidge Danticat's The Dew Breaker and Jay Z's 4:44
Get inspired by a discussion with BHCC students from "Black Women in Literature" as they examine how characters in BHCC's One Book selection struggle with repentance and rely on the strength and support of women in their lives to find forgiveness.
Moderated by Berlisha Morton, Adjunct Professor
1 p.m., A300 Lobby
Charlestown Campus
Wednesday, March 28, 2018
Meet Julia Child!
A live performance by Delvena Theatre, featuring Lynne Moulton as Julia Child doing what she did best. Learn more about her life—from her childhood in California when she had no interest in food, except for eating—to becoming one of the greatest culinary legends of all time.
The audience will have the opportunity to view Julia on the set of The French Chef television show, while enjoying a special menu inspired by the show and prepared by BHCC Culinary Students.
Discussion following the performance, with remarks by E. Alicia Harris, Associate Professor
Space for this event is limited. Please rsvp to kwery@bhcc.mass.edu
5:30 p.m., E 421, Culinary Arts Dining Room
Charlestown Campus
Her Music—An Exploration of Women Composers
Join in a celebration of music by women composers. The BHCC music faculty will perform music from a variety of styles and eras—including pieces written by Billie Holiday, Anne Boyd, Kaki King and others.
6 p.m., A300 Auditorium
Charlestown Campus