Compelling Conversations
To engage and inspire students, faculty, staff, and our community, Bunker Hill Community College's Compelling Conversations Speaker Series invites today's diverse voices, eminent thought leaders, and visionaries from both domestic and international platforms to share local, national, and global perspectives on contemporary and culturally relevant issues of human interest, social justice, and change.
Sponsored by the Office of Equity, Diversity and Inclusion, this series of speakers is intended to support meaningful discussion inside and outside the classroom as part of an ongoing college-wide commitment of equity and cultural wealth, resistance, and resilience.
The 2022-2023 series celebrates those who have used the power of their voices to make dynamic changes in our world, especially regarding issues of race and gender justice, systemic inequity locally and globally, a family history of activism, advocacy for telling untold stories, and civil, immigrant, and LGBTQIA rights.
Upcoming Speakers
Cleve Jones | LGBTQ+ Rights Trailblazer and Best-Selling Author
December 1, 2022, 6 p.m. (virtual)
For 50 years, Cleve Jones has given a voice to the voiceless, organized the struggling and disenfranchised, and inspired activists and audiences alike with his life stories of driving history-making change. He was recognized as a Champion of Change by President Obama and portrayed in an Oscar-winning film. His acclaimed keynotes connect the historic struggles of the past with the most urgent issues of our time: overcoming pandemics, achieving economic justice, protecting the vulnerable, and standing up for all forms of human rights. A passionate speaker with a powerful story, Jones is now speaking out for all who struggle for equality and fair treatment. He brings both historical perspective and storytelling talent to timely discussions of diversity, intersectionality, civil and human rights and the stunning parallels between the HIV and COVID-19 pandemics. Jones currently works as a community organizer for UNITE HERE, the international union representing hotel, casino, food service and restaurant workers. He came to labor activism already a hero in the struggle for gay, lesbian and transgender rights, and a fearless champion for those living with HIV. Jones has been a driving force behind the most important gains made by the LGBTQ+ community over the last five decades. From his early days in the "gay liberation" movement with Harvey Milk to co-founding the San Francisco AIDS Foundation, founding the AIDS Memorial Quilt and fighting for marriage equality, Jones has made history as part of one of the most effective human rights movements of all time. He was portrayed by Emile Hirsch in the Oscar-winning film Milk, for which he served as a historical consultant. Jones was also prominently featured in the critically acclaimed miniseries When We Rise, which was inspired by his award-winning 2016 memoir of the same title. Now considered one of the elder statesmen of human rights activism, Jones came to advocacy through his own struggle as a gay man born in the mid 1950s. As a teen runaway, he was drawn to the progressive life and politics and of San Francisco in the early 1970s. It was there that he met Harvey Milk, the nation's most outspoken gay elected official. Jones worked in Milk's City Hall office as an intern until Milk's assassination in 1978. With the onset of the AIDS epidemic, Jones rose up to organize the gay community and raise awareness, co-founding the San Francisco AIDS Foundation (SAF) in 1983. Unlike the movements of today which rely heavily on digital marketing and social media, Jones grew the SAF into one of the largest and most influential advocacy organizations of its kind through grass roots efforts.
Join Zoom Meeting
https://us02web.zoom.us/j/81998163834?pwd=WHZabVZnUzdKRFRabm5RS3BveTI2QT09
Meeting ID: 819 9816 3834
Passcode: 994895
Dial by your location
+1 646 876 9923 US (New York)
Meeting ID: 819 9816 3834
Passcode: 994895
Ndaba Mandela | Grandson of Nelson Mandela, Founder of Africa Rising Foundation
January 26, 2023, 1 p.m. (virtual)
Nelson Mandela had a "long walk to freedom," yet his footprints still remain. Following in the footsteps of his beloved and iconic grandfather, Ndaba Mandela has taken the torch – and ran with it. Today, Nelson Mandela's legacy lives on as Ndaba continues to keep its beacon of hope bright, fueling its fiery message that one person can make a difference. Thankfully for all, the legacy lives, as Ndaba was recently named one of the "28 Men of Change" by BET. His recent book, Going to the Mountain: Life Lessons from My Grandfather, Nelson Mandela, is the first-ever to tell Nelson Mandela's life through the eyes of the grandson who was raised by him, chronicling Ndaba's life living with, and learning from, one of the greatest leaders and humanitarians the world has ever known. Today, Ndaba is showing the world, through his actions and orations, that Nelson Mandela's voice and message of freedom still carries and rings true – sounded by a child that became a man under the warm embrace and expert tutelage of one of history's greatest teachers. Currently, Ndaba is organizing the 95th celebration of Nelson Mandela day and was also instrumental in creating the International Day of Happiness at the United Nations. He continues to keep Mandela on the world's mind. Ndaba is the co-founder and co-chairman of the Africa Rising Foundation, an organization dedicated to promoting a positive image of Africa around the world and to increasing its potential for growth in the areas of education, employment and international corporate alliances for profit and partnership. Ndaba also serves as an executive director UN AIDS, which seeks to end discrimination around HIV/Aids through the power of football.
Sonia Manzano | "Maria" on Sesame Street, Best-Selling Author and Producer
March 9, 2023, 1 p.m. (virtual)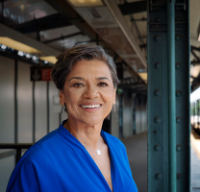 For over 40 years, Sonia Manzano inspired, educated, and delighted children and families as "Maria" on Sesame Street. Named among the "25 Greatest Latino Role Models Ever" by Latina Magazine, Manzano broke ground as one of the first Hispanic characters on national television. Throughout her career, she has continued to contribute to enriching diversity on television, on the stage, and in the educational realm. A first generation American of Latin descent, Manzano's tale is one of perseverance and courage as she overcame countless obstacles to become one of the most influential Latinas in television. Manzano was raised in the South Bronx, where her involvement in the arts was inspired by teachers who encouraged her to audition for the High School of Performing Arts. She was accepted there and began her career as an actress. A scholarship took her to Carnegie Mellon University in Pittsburgh, and in her junior year, she came to New York to star in the original production of the off-Broadway show Godspell. Within a year, Manzano joined the production of Sesame Street, where she eventually began writing scripts for the series. She was thrilled to help write the story line for "Maria's" marriage and birth of "Maria's" baby, played for a while by Manzano's real-life daughter Gabriela. Recently, Scholastic and Manzano partnered to launch two middle-grade novels and two picture books. Some of Manzano's other books include her memoir, Becoming Maria: Love and Chaos in the South Bronx (Scholastic), and a Christmas picture book, Miracle of 133rd Street (Simon & Schuster). Becoming Maria was praised by Kirkus Reviews for its "lyrical and unflinching account of her tough Nuyorican upbringing in the South Bronx," and calls it a "touching memoir." Kirkus Reviews says "Manzano lovingly details life-changing moments," with a "stark and heartbreaking contrast to her Sesame Street character." Manzano's latest book is called A World Together, and it aims to promote unity by celebrating cultural and generational diversity. Her upcoming book, Coming Up Cuban, will be out in April of 2022. Coming Up Cuban is set in 1959 and follows the lives of four children who each represent different intersections of race and class in Cuba.
Ilyasah Shabazz | Daughter of Malcolm X, Professor & Author
April 20, 2023, 6 p.m. (virtual)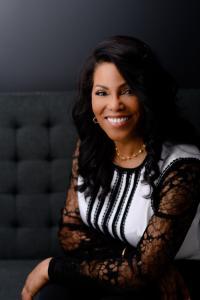 Ilyasah Shabazz is an award-winning author, educator and producer. She has authored five historical novels and has served as project advisor for the PBS award-winning film, Prince Among Slaves documentary. She is Co-Chairperson of the Malcolm X & Dr. Betty Shabazz Memorial and Educational Center. In her work to preserve the legacy of her parents, she has dedicated herself to institution building and intergenerational leadership development with the tenants of diversity, equity, and inclusion. Ms. Shabazz has furthered her community impact with the City University of New York's Office of Academic Affairs, where she created curriculum to encourage higher education for underserved, inner-city high school dropouts. She has worked with the Office of the Mayor in Mount Vernon, as Director of Public Affairs & Special Events. She founded and produced a young adult development program. The purpose of the program was to provide insight on social justice—encouraging personal empowerment. As president and founder of Ilyasah Shabazz Enterprises, she produces a variety of forums dedicated to power, possibility and sovereignty. Grounded in the commitments of her parents, Ms. Shabazz emphasizes empowerment and inclusion in her teaching and scholarship.
Juju Chang | Emmy Award-Winning Co-Anchor of ABC's Nightline
May 4, 2023, 6 p.m. (virtual)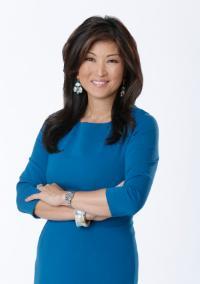 One of the most prominent Asian Americans in broadcast news, Juju Chang is the Emmy Award-winning co-anchor of ABC News Nightline and a regular contributor to Good Morning America and 20/20. With the rise of hate crimes against the Asian American and Pacific Islander (AAPI) community, Chang leveraged her platform to become a much-admired champion of social change. She made U.S. broadcast history co-anchoring the 2021 ABC News Live special, Stop The Hate: The Rise In Violence Against Asian Americans alongside fellow Korean-American co-anchor Eva Pilgrim and a cast of AAPI journalists, thought leaders, lawmakers and celebrities. Chang's highly visible reporting on Asian Hate is the culmination of decades of covering everything from natural disasters to terrorism, mass shootings, immigration, violence against the LGBTQIA+ community and, most recently, the inequities of the COVID-19 pandemic. Known for her in-depth personal narratives and long-form storytelling, Chang has won acclaim for stories with underlying themes of civil and women's rights and social justice. These include her critical examination of the controversial "Remain in Mexico" immigration policy, which she told through the eyes of one pregnant woman and her family living among the 60,000 asylum seekers camped for months along the Rio Grande. Her award-winning report, "Trans and Targeted" on violence against transgender women of color was the latest of a series of stories on the targeting of LGBTQIA+ Americans, including a GLAAD award-winning report on Matthew Shepard's murder. Internationally, Chang has been a powerful voice on gender-based violence, including a trip through Central Africa on the front lines against Boko Haram and #bringbackourgirls. She also traveled to Honduras for "Femicide: the Untold War," an eye-opening look at rampant violence against women.
Past Compelling Conversations