Locations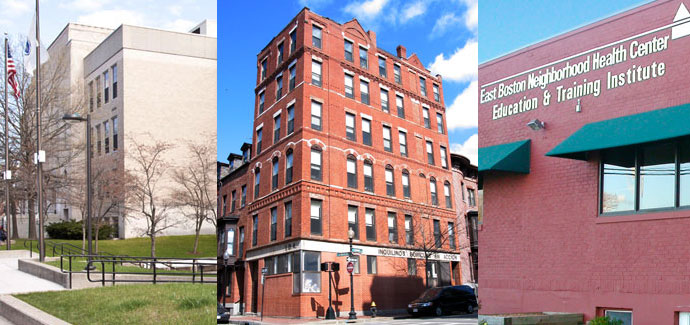 In addition to its two main campuses in Charlestown and Chelsea, Bunker Hill Community College offers courses at the Malden and South End Satellites and several instructional site locations in many Greater Boston communities. The curricula available at these locations may include foundation courses that fulfill general education requirements for degrees and certificates as well as courses in response to community interest, such as offerings in business, allied health and computer technology.
Placement testing, advising and registration for courses offered at instructional sites are available at both the Charlestown and Chelsea Campuses and at the South End Satellite.
Charlestown Campus
250 New Rutherford Avenue, Boston, MA 02129-2925
617-228-2000
TTY: 617-242-2365
The Charlestown Campus is situated on 42 acres in the historic Charlestown neighborhood of Boston, Massachusetts. The campus is within sight of the famed Bunker Hill Monument and the permanent berth of the U.S.S. Constitution. The Charlestown Campus is located on the MBTA's Orange Line at the Community College station. Learn more.
Chelsea Campus
70 Everett Avenue, Chelsea, MA 02150
617-228-2101
Providing higher education and job training opportunities to residents of Chelsea, Revere, Everett, East Boston, Winthrop and other surrounding communities, the BHCC Chelsea Campus is actively involved in the community through partnerships with community based organizations, social service organizations, Chambers of Commerce, the City of Chelsea and the Chelsea Public Schools. Learn more.
Malden Satellite
Malden High School
77 Salem Street
Malden, Massachusetts 02148
617-228-3319
Established in the fall of 2009, the Malden Satellite offers introductory and college level courses in the day and evening during the fall and spring semesters. Placement testing, advising and registration for these courses are conducted on the BHCC Charlestown Campus. Malden High School is accessible from the Orange Line, Malden Center transit station. Learn more.
South End Satellite
Inquilinos Boricuas en Accion (IBA) Villa Victoria
405 Shawmut Avenue
Boston, Massachusetts 02118
617-927-1707
The South End Satellite, operating in partnership with IBA - Inquilinos Boricuas en Acción, is a nationally replicable model of a local community college (BHCC) working hand-in-hand with a community based organization (IBA) to establish a college campus directly in the heart of an affordable housing community (Villa Victoria). The South End Satellite provides Boston residents with the opportunity to complete the HiSET (formerly the GED), take ELL and Basic English courses, and to enroll in college-level classes. Free child care services and financial coaching are also available at this location. Prior to the beginning of each semester and throughout the year, the satellite offers a range of student services including academic support, success coaching, financial aid assistance, academic advising, placement testing and admissions and enrollment assistance. Learn more.
Boston Chinatown Neighborhood Center Instructional Site in North Quincy
1458 Hancock Street, Suite 306,
Quincy, MA 02171
Students can also enroll in a limited number of classes at the Boston Chinatown Neighborhood Center's Quincy site in North Quincy.
East Boston Instructional Site
250 Sumner Street and 20 Maverick Square
East Boston, Massachusetts 02128
617-568-6492
The East Boston Instructional Site is located at 250 Sumner Street, East Boston. This instructional site offers a limited number of introductory and Allied Health courses.
Everett High School Instructional Site
100 Elm Street
Everett, Massachusetts 02149
BHCC students can enroll in courses in allied health at Everett High School. While a number of seats in at the Everett instructional site are reserved for Everett High School students as part of the College's Dual Enrollment/Early College program, additional seats are open to all BHCC students.
Freedom House Instructional Site in Dorchester
5 Crawford Street
Dorchester, Massachusetts 02121
617-445-3700
BHCC partners with Freedom House in Dorchester to offer a limited number of courses for dual enrollment students, as well as those that are open to all BHCC students.
Pao Arts Center in Chinatown Instructional Site
BHCC partners with Boston Chinatown Neighborhood Center (BCNC) on the Pao Arts Center, an arts, culture and education space for the community to convene to preserve and celebrate the cultural and creative assets of Boston's Chinatown. The center, housed within the distinctive One Greenway building, is Chinatown's first community-based arts center and Boston's newly dedicated Asian American and Asian immigrant cultural space. A range of BHCC classes are offered at the Pao Arts Center, including theater, visual and media arts and business. Students and community partners also have access to the BHCC mobile language lab at this location. Learn more.