April 3, 2020: Chromebooks to Borrow to Finish your Classes

Greetings Students,

We hope that you are well and that you are finding success with the transition to a remote learning environment. If you feel you have inadequate tools to succeed with remote learning such as an old computer, we have CHROMEBOOKS YOU CAN BORROW! Please complete the Remote Access Assistance Form or Call 617-228-2361 and we can set you up with a Chromebook for the rest of the spring semester.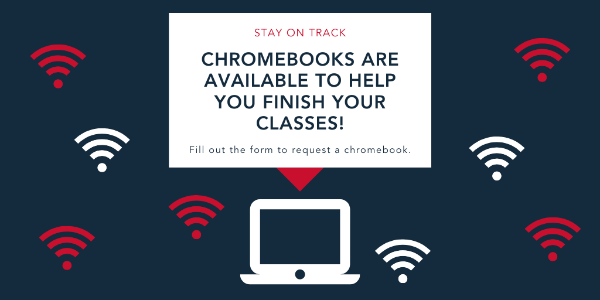 We want you to stay in school and stay connected. Visit the College's Response to Coronavirus page for more details.
Go BULLDOGS!
Dr. Julie Elkins
Dean of Students
---
March 25: Getting Ready for Classes Next Week

Dear BHCC Students,

Governor Baker issued Emergency Order #13, requiring non-essential businesses to close and workers to stay at home. You can read more about the Emergency Order online.
What does this mean for school?
Classes will not be meeting on-campus but will start next week. Email your professor if you have not heard from them on how you will be finishing the semester together.
If you have not reached your professor, let us know and we will help you out. Please click on this survey link: READY TO START CLASSES NEXT WEEK
What can I do this week to prepare?
Set-up a space at your home to attend class via Moodle, email, Webex, etc. Make sure you have access to a computer and the internet. Email your professors so you can learn about this transition.
What if I don't have access to the internet?
There are free or reduced options available and can be found at https://www.highspeedinternet.com/resources/are-there-government-programs-to-help-me-get-internet-service.
What if I don't have a computer, laptop or Chromebook?

BHCC has a limited number of Chromebooks that have been donated through the BHCC Foundation that can be borrowed until June 1, 2020.
Click to complete your technology needs to indicate your need for one. We have Chromebooks on order for students to borrow from BHCC.
How can I get help learning how to use internet-based tools my professor may be using?
Call us: 1-877-668-4493 (Toll Free), Meeting Access Code: 735 429 954.
Website: https://bhcc.webex.com/meet/aide1
Email: onlinehelp@bhcc.edu
Can I still reach staff like LifeMap, Disability Services, Single Stop, and the Veterans Office?
YES, ALL student support services are available via phone, email and some even have chat. We are here to help! View the Important Contacts and Hours to reach the College departments and services.
Does the DISH still have food?
YES. Go on-line and place your order. We will be open on Wednesday's and Thursday's 10 a.m. to 2 p.m.

Please stay home, stay safe and stay in school. We are here to support your success. We appreciate your patience. We will come through this together.

Julie Elkins
Dean of Students