BHCC Addresses Urban Policing in Communities of Color with Wes Moore
Friday, February 24, 2017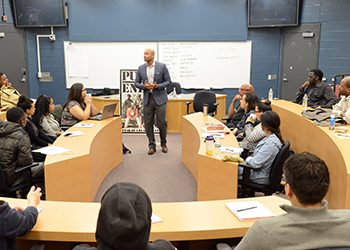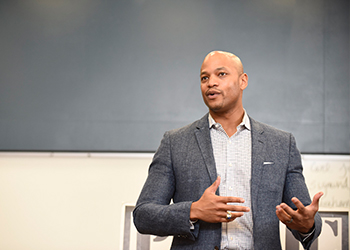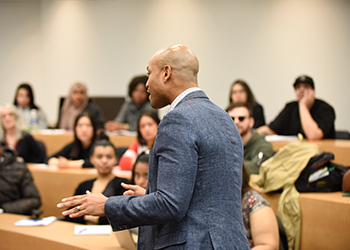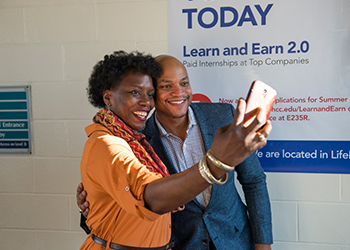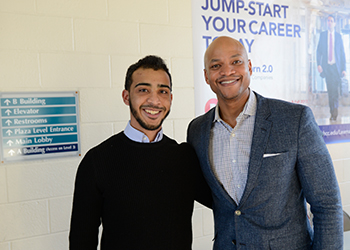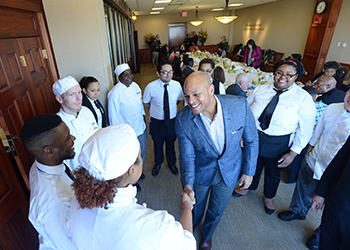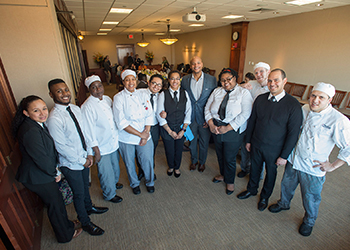 At the event, Moore shared experiences from his own upbringing, growing up in Baltimore, MD.He urged students to get personal, and not to shy away from making these issues personal to us. "How do we ensure that people feel heard, and that these types of interactions matter?"

Moore commended BHCC for hosting the open forum: "There needs to be space for people to have these sorts of conversations. What happens far too often in so many communities is that people are afraid to address what is happening around them, and when things go badly, when there's tragedy, they're far too quick to brush it under the rug."

Prior to his presentation, Moore enjoyed lunch prepared by the College's Culinary Arts students, and spoke to students studying the power of words, lyrics and images in the greater context of society through Learning Communities Clusters.

"You cannot understand the movements of 1960s and 1970s without understanding the lyrics of Bob Dylan, James Brown or Harry Belafonte," said Moore. "As people, we can learn so much about where we were, where we are and where we're going through our lyrics, our poems, our films and our art. Art is the explainer, the thing that gives it clarification, and a sense of context."

Wes Moore is the author of The Work and The Other Wes Moore—a previous BHCC One Book selection that explores the impact of environment on the potential for success or failure. He is also the founder of BridgeEDU and Stand!, and a member of the board of Achieving the Dream, a national organization helping millions of community college students realize greater economic opportunity and achieve their dreams.

For more than a decade, the Compelling Conversations series has brought high-profile speakers to Bunker Hill Community College to discuss their professional experience and provide inspiration for students—from activist Gloria Steinem to boxer Laila Ali, filmmaker Ken Burns, journalist Tavis Smiley and former president of Ireland Mary Robinson.

Join Bunker Hill Community College for these upcoming events focusing on criminal justice and policing in urban neighborhoods:

In Honor of Black History Month, BHCC Presents
Dewey Bozella | March 2, 2017
Courage, Persistence and Overcoming Injustice
Wrongfully imprisoned for 26 years, Dewey Bozella tells his story of injustice and the perseverance, courage, and faith that led to his exoneration. He is the winner of the prestigious Arthur Ashe Courage Award.

Difficult Dialogues
Ed Davis | March 23, 2017
Policing in America: The Changing Landscape of Our Cities & Law Enforcement's Role in Protecting Our Communities
Former Boston Police Commissioner Ed Davis, who was at the forefront of the emergency response to the 2013 Boston Marathon Bombing and the arrests that followed, talks about the need for fundamental reforms to policing and the criminal justice systems.

Learn more about our speakers at bhcc.edu/speakers.

Photo Captions: Author Wes Moore addressed students in the lecture hall, shared lunch prepared by Culinary Arts students, and visited a class.

To view more photos from this event, visit our facebook page.