Press Release
Bunker Hill Community College Holds 48th Commencement Exercises, Boston Mayor Michelle Wu Addresses Graduates
Thursday, May 26, 2022
Boston Mayor is Keynote Speaker at First In-Person Graduation Ceremony in Three Years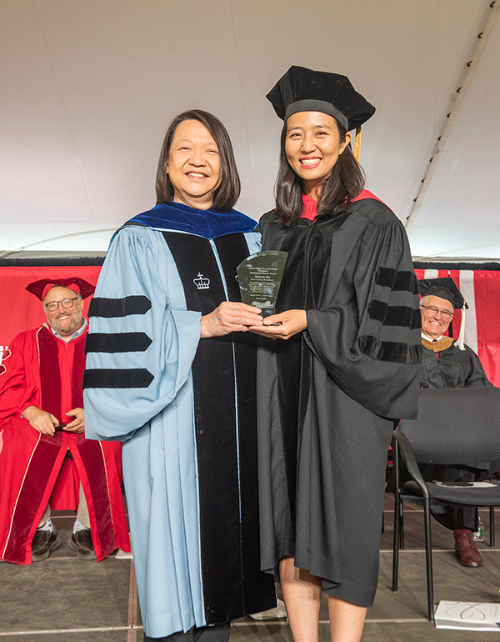 BOSTON, MA (May 26, 2022)—Bunker Hill Community College (BHCC) held its 48th Commencement Exercises on Thursday, with Boston Mayor Michelle Wu addressing graduates as keynote speaker and recipient of the College's Presidential Distinguished Service Award.
The largest community college in Massachusetts, BHCC enrolls nearly 18,000 students each year. One thousand two hundred and ninety-nine students graduated with an associate degree or certificate.
"Bunker Hill is an incredible college—dedicated to creating opportunities, and opening doors, for all its students," Mayor Wu said to gathered students, faculty, and staff. "But it is an even more incredible community. I have heard from students who came here afraid that their past performance would determine their future opportunities… And in every case, no matter your situation, I know that, here, you were told: Let us know what you need in order to learn. Let us help you accomplish your goals."
The Presidential Distinguished Service Award is given annually to a leader in Greater Boston who exemplifies service to the Bunker Hill Community and to the communities the college serves.
BHCC President Pam Y. Eddinger presided over the ceremony and addressed graduates in the college's first in-person commencement in three years.
"If you use your power to actualize your own potential, if you use your power to affirm your own dignity, then you can reach across to your neighbor and join your power to theirs," Eddinger told graduates. "We rise, together."
In addition to Wu, two other awards were presented at the ceremony: the Trustees' Distinguished Service Award, presented by College Board of Trustees Vice Chair R. Kelly Cameron to the co-chairs of the College's ReOpen Task Force, Transition Team, and Mental Health Commission, each of which were deeply involved in planning and policy-making at the college during the COVID-19 pandemic. "Be well-read...be well-spoken...be well-traveled...be well-dressed...be well-balanced," Cameron told members of the graduating class.
Professor of Biology and Chemistry Libby Dunphy gave the faculty address to the graduating class. "Today...you should be proud of yourself. You have earned this," Dunphy said. "I hope you know that you are an inspiration to me. It is a pleasure to teach students who are hard-working, serious, and above-all curious."
Eddinger also presented College Student Government Association President Chase Baker with the President's Leadership Award, given annually to a student who exemplifies leadership at the College. "As we face our next challenges, don't forget that you and you alone–not family, not social expectations–define what constitutes your success," Baker said. "And don't be surprised if that changes throughout your career. Whatever the future may hold, now is the time for celebration! You should all be immensely proud of what you have achieved."
About the BHCC Class of 2022
Bunker Hill Community College is the youngest and the largest of the 15 Community Colleges in the Commonwealth of Massachusetts. The College serves nearly 18,000 students per year, including 600 international students from 94 countries, speaking more than 75 languages.
The graduating class of 2022 is

1299

strong:

More than 35% of

graduates received Associate of Arts degrees

Almost 50% of

graduates

received Associate of Science degrees

Nearly 15% of

graduates received certificates
Media Contact:

---
About Bunker Hill Community College
Bunker Hill Community College is the largest community college in Massachusetts, enrolling approximately 18,000 students annually. BHCC has two campuses in Charlestown and Chelsea, and a number of other locations throughout the Greater Boston area. BHCC is one of the most diverse institutions of higher education in Massachusetts. Sixty-five percent of the students are people of color and more than half of BHCC's students are women. The College also enrolls nearly 600 international students who come from 94 countries and speak more than 75 languages.