President Eddinger on "Equity First: Achieving Racial Justice in MA Public Higher Education"
Friday, September 11, 2020
On September 10, 2020, Bunker Hill Community College (BHCC) President Pam Eddinger joined the Massachusetts Department of Higher Education (DHE) and the Lumina Foundation in the announcement of $1.2M in state and campus grants being awarded by the Lumina Foundation to pursue equity and racial justice for students attending the Commonwealth's public colleges and universities.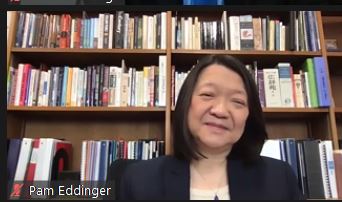 Lumina's Talent, Innovation, and Equity (TIE) grant will enable the DHE to set shared goals for public institutions of higher education to dismantle systemic barriers to student success and degree attainment for Black and Latinx students. In addition to the TIE grant, the Lumina Foundation simultaneously awarded Equity Institution grants to BHCC, The Boston Foundation and five other college campuses.
At BHCC, Equity Institution grant funding will allow the College to continue to build on the work of its Center of Equity and Cultural Wealth, applying its equity work to redesigning its curriculum and student academic experience in healthcare and STEM programs, part of the College's intentional strategy of culturally-responsive programming and equity minded practice.
Following the announcement, President Eddinger joined grant recipients leaders in a panel discussion moderated by Elizabeth Pauley, Associate Vice President, The Boston Foundation. "One of the hardest things to change are hearts and minds and narrative for every person who touches a student," said President Eddinger. "We must see our students as social and economic connections to the workforce. We weave those values into teaching and learning."
Special guests for the announcement included Massachusetts Senator Elizabeth Warren and Massachusetts Congresswoman Ayanna Pressley; Danette Gerald Howard, Senior Vice President and Chief Strategy Officer, Lumina Foundation; Carlos E. Santiago, Commissioner, DHE; James Peyser, Massachusetts Secretary of Education; Chris Gabrieli, Chair, Massachusetts Board of Higher Education; and Jorgo Gushi, student, Quinsigamond Community College.
Panelists also included Fred Clark, President, Bridgewater State University; Yves Salomon-Fernández, President, Greenfield Community College; Kymberly Pinder, President, Massachusetts College of Art & Design; Christina Royal, President, Holyoke Community College; and Marcelo Suárez-Orozco, Chancellor, University of Massachusetts Boston.
Read more about the announcement on Community College Daily and MassLive.