Exchange Participants Study at BHCC to Develop Global Workforce and Leadership Skills
Friday, August 23, 2019
BOSTON, August 23, 2019 – Bunker Hill Community (BHCC) is pleased to welcome 12 international exchange students to contribute to our vibrant campus community during the 2019-2020 academic year as part of the U.S. Department of State's Community College Initiative (CCI) Program.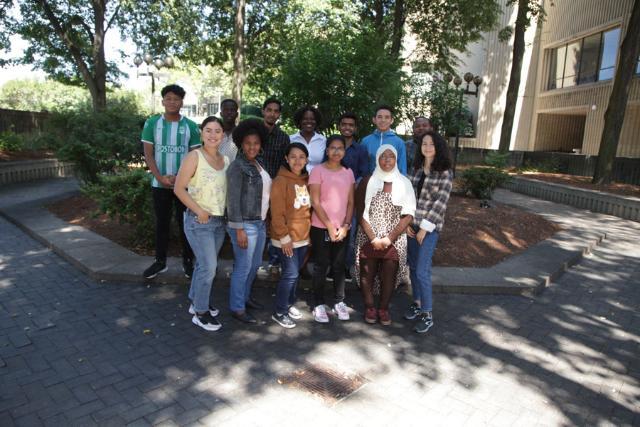 Photo Caption: Group photo of BHCC 2019-2020 CCI Program participants.
The CCI Program will provide 144 participants from underserved global communities with a one-year non-degree academic program in workforce development fields at nine U.S. community colleges in eight states. This year, CCI participants studying at BHCC are from Colombia, Egypt, Ghana, India, Indonesia, Turkey and South Africa.
Since 2013, BHCC has welcomed 84 CCI students coming from 11 countries. The CCI Program is designed to build participants' technical skills, enhance leadership capabilities, and strengthen English language proficiency. The Program also provides opportunities for professional internships, service learning and community engagement activities to build relations between citizens of the United States and other countries.
During the 2018-2019 Program year, CCI participants contributed nearly $1 million in service to local U.S. communities through volunteering and unpaid internships, as calculated by independentsector.org rates for volunteer hours. CCI participants also contribute to their U.S. host communities by bringing diverse, global perspectives to classrooms, campus life, and local organizations. In March 2019, BHCC alumna Junia Akter from Bangladesh participated in the Future We Want Model United Nations in New York City.
After completing the CCI Program, participants return home with a deeper understanding of U.S. culture and with improved technical and vocational skills to contribute to the economic development of their home communities. Rishikesh Ghodeswar (BHCC CCI 2018, alumna) studied business administration. After returning to Mumbai, India, Rishikesh organized a "teenprenuers" program where young women learn skills in business development, marketing, networking and more. Melissa Acevedo participated in CCI at BHCC in the 2016-2017 program year. After studying early childcare and interning in Boston, Melissa used the skills she learned to teach pre-Kindergarten students in her native Colombia.
Since 2007, the CCI Program has hosted more than 3,200 participants from 21 countries. This U.S. Department of State Program is administered by Northern Virginia Community College in cooperation with the Community College Consortium. For further information, please contact the Bureau of Educational and Cultural Affairs at eca-press@state.gov. To learn more about the CCI Program at BHCC, visit bhcc.edu/ccip.
Media Contact:

---
About Bunker Hill Community College
Bunker Hill Community College is the largest community college in Massachusetts, enrolling approximately 18,000 students annually. BHCC has two campuses in Charlestown and Chelsea, and a number of other locations throughout the Greater Boston area. BHCC is one of the most diverse institutions of higher education in Massachusetts. Sixty-five percent of the students are people of color and more than half of BHCC's students are women. The College also enrolls nearly 600 international students who come from 94 countries and speak more than 75 languages.