State and Local Leaders to Collaborate on Higher Ed Plans for Chelsea
Friday, January 22, 2016
Political, business, community and education leaders met at the Chelsea Campus of Bunker Hill Community College (BHCC) on January 12, 2016, to discuss plans for greater collaboration in meeting the educational needs of Chelsea's large Latino community. Attending the gathering were owners of the local businesses, local and state education leaders, members of Chelsea's city council and School Committee and representatives of nonprofit organizations, as well as faculty members, the president, two vice presidents, and other top administrators from BHCC.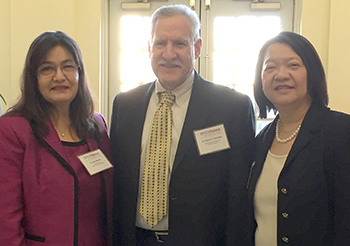 "This meeting is a punctuation mark in the work BHCC has been envisioning for Chelsea for two years now," said BHCC President Pam Eddinger, in welcoming remarks. "Bunker Hill Community College will always be in Chelsea. We are committed to being part of this city, and part of all of its plans for the future."
Massachusetts Higher Education Commissioner Carlos E. Santiago kicked off the panel discussion by pointing out the urgent need to continue expanding higher education in the state. He noted that approximately one-third of the Massachusetts workforce is headed for retirement in the next decade and that 79 percent of the state's jobs require some college education.
A lively discussion followed, with comments from panelists Thomas G. Ambrosino, Chelsea City Manager; Dennis R. Cataldo, Vice President of Cataldo Ambulance Service; and Mary Bourque, Superintendent of Chelsea Public Schools. Dr. Alice Murillo, the College's new Associate Provost of the Chelsea Campus, moderated the discussion.
"We want BHCC to be an integral part of learning, earning a livable wage, and creating pathways that will take students beyond Chelsea," said Murillo, a first-generation college student whose parents emigrated from Costa Rica and Puerto Rico.
Audience member Alberto Calvo, Executive Vice President of the Chelsea Chamber of Commerce, offered a business perspective laying out local business needs for a well-prepared workforce. Chelsea City Councillor-at-Large Leo Robinson also contributed to the discussion, as did Ann Houston, Executive Director of The Neighborhood Developers, Sylvia Ramirez, Director of the Youth and Families Department of the Chelsea Collaborative, and others.
Sixty-eight BHCC, Chelsea High School and UMASS Boston faculty and staff took part in the Open House virtually through a WebEx exchange as part of the first three-day Latino Student Success Institute, a collaborative effort aimed at improving educational outcomes for Latino students. Institute participants were able to interact with the panel virtually and ask questions related to the goals of the institute: Engagement and Cultural Inclusivity, Educational and Career Planning, Applied and Experiential Learning, and Aligned and Accelerated Pathways.
The institute was funded through a Vision Project Performance Incentive Fund grant from the Massachusetts Department of Higher Education. The grant supports a project called Student Success: Building Pathways from High School to Baccalaureate.
Media Contact:

---
About Bunker Hill Community College
Bunker Hill Community College is the largest community college in Massachusetts, enrolling approximately 18,000 students annually. BHCC has two campuses in Charlestown and Chelsea, and a number of other locations throughout the Greater Boston area. BHCC is one of the most diverse institutions of higher education in Massachusetts. Sixty-five percent of the students are people of color and more than half of BHCC's students are women. The College also enrolls nearly 600 international students who come from 94 countries and speak more than 75 languages.