Bunker Hill Community College Men's Basketball Team Ranked in Top Ten Nationally
Wednesday, January 27, 2016
For the first time in Bunker Hill Community College history, the Bulldogs, the College's men's basketball team, have made the National Junior College Athletic Association (NJCAA) National Top Ten. The Bulldogs are ranked 8th in Division III. "We have a deep bench of skilled, athletic and happy players who work hard every game. That combination makes us difficult to beat," said men's basketball Head Coach Nkrumah Jones, '01.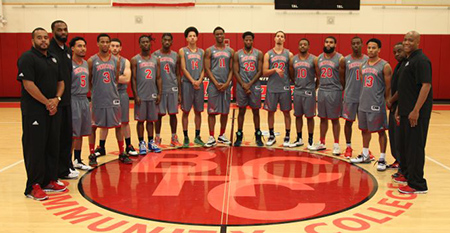 Four of BHCC's five starters have averaged double-digit scores—second-year forward Fredens Deneus from Cambridge, Massachusetts; second-year guard Kevon Young from Boston, Massachusetts; Elijah Rogers from Brookline, Massachusetts; and second-year forward David Stewart, from Boston. Deneus, with 16 rebounds, has been ranked 3rd in Division III by the NJCAA. Rogers' 9 assists have landed him at 5th nationally.
The Bulldogs launched their season November 3 with an unprecedented 13-4 record, beating the Community College of Rhode Island team, the CCRI Knights, 87-69. When the Bulldogs arrived home they won eight games. For more information about the Bulldogs, visit bhcc.edu/athletics/mensbasketball.
Media Contact:

---
About Bunker Hill Community College
Bunker Hill Community College is the largest community college in Massachusetts, enrolling approximately 18,000 students annually. BHCC has two campuses in Charlestown and Chelsea, and a number of other locations throughout the Greater Boston area. BHCC is one of the most diverse institutions of higher education in Massachusetts. Sixty-five percent of the students are people of color and more than half of BHCC's students are women. The College also enrolls nearly 600 international students who come from 94 countries and speak more than 75 languages.