U.S. Secretary of State Antony J. Blinken to Give Commencement Address at Bunker Hill Community College
Thursday, May 20, 2021
U.S. Secretary of State Antony J. Blinken will be the keynote speaker at Bunker Hill Community College's (BHCC) 47th Commencement exercises, in a virtual celebration on May 27 at 6 p.m.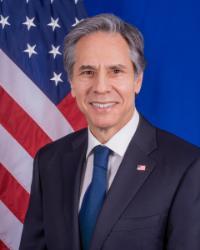 "We are honored to have Secretary Blinken as this year's Commencement speaker," said BHCC President Pam Eddinger. "His commitment to fight for the interests and values of the American people and his insistence on equity and opportunity speaks to the very heart of Bunker Hill Community College".
In addition to serving in President Biden's administration, Blinken served in the Obama and Clinton administrations spanning over three decades shaping U.S. foreign policy. Blinken is a graduate of Harvard College and Columbia Law School.
The virtual ceremony will include remarks from Massachusetts Commissioner of Higher Education Dr. Carlos Santiago, Board of Trustees Chair William Walczak, President Dr. Pam Eddinger, Provost Dr. Jim Canniff, Student Government Association President David Ernesto Kim Brady, and other special guests.
BHCC Deans will be reading the names of graduates in each of their divisions. There will be a special recognition to nine early college graduates who will receive their associate's degree and high school diploma consecutively.
This celebration is open to the public and will be streamed on YouTube and Facebook Live.
Learn more, including links to the event at bhcc.edu/commencement
Media Contact:

---
About Bunker Hill Community College
Bunker Hill Community College is the largest community college in Massachusetts, enrolling approximately 18,000 students annually. BHCC has two campuses in Charlestown and Chelsea, and a number of other locations throughout the Greater Boston area. BHCC is one of the most diverse institutions of higher education in Massachusetts. Sixty-five percent of the students are people of color and more than half of BHCC's students are women. The College also enrolls nearly 600 international students who come from 94 countries and speak more than 75 languages.