Bunker Hill Community College Pledges to Action in becoming a Vaccine Champion College
Wednesday, June 16, 2021
This month, the U.S. Department of Education (USDOE) announces the COVID-19 College Challenge, where colleges and universities take a pledge and commit to taking action to get their college communities vaccinated. The COVID-19 College Challenge is part of the Biden Administration's month of action in June encouraging Americans to get vaccinated and aims to accelerate our national progress toward President Biden's goal of 70% of the U.S. adult population receiving at least one vaccine shot by July 4th.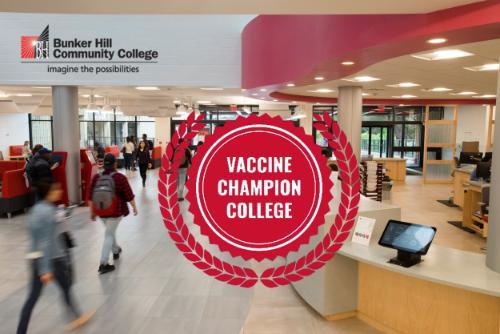 BHCC President Pam Eddinger joined college and university presidents nationally in taking a pledge to become a Vaccine Champion College, and committing to taking action to help the College and surrounding community get vaccinated by: engaging every student, faculty, and staff member; promoting awareness to our college community; and delivering vaccine access for all with on-campus vaccination clinics through the summer.
Upcoming vaccine clinics are open to the BHCC community and the public.
Charlestown Campus Clinics:
6.23.21: City of Boston Clinic; 3-7 p.m. (second shot of the Pfizer vaccine, for ages 12+ and the one-dose Johnson & Johnson, for ages 18+) Link to register: https://www.cic-health.com/boston/bunkerhillcc
7.14.21: USDOE Clinic (first dose); 2-6 p.m.
8.04.21: USDOE Clinic (first and second dose); 2-6 p.m. (and will double as a first clinic).
8.25.21: USDOE Clinic (second dose); 2-6 p.m.

Chelsea Clinics:
Chelsea Senior Center - 10 Riley Way, Chelsea, MA 02150 (Behind Fire Station across from City Hall): Mondays, 2-6 p.m.; Fridays, 3-7p.m.; Sat/Sun, 10-5p.m.

Vaccines Available: Pfizer (for ages 12+) – 1st and 2nd shots. One-Dose Johnson & Johnson (for ages 18+) Walk-up or Register by calling 3-1-1 (617-466-4209) or visit http://www.cic-health.com/chelsea/seniorcenter

For Resources, Testing and Vaccination Sites, visit:
bhcc.edu/coronavirus-info/resourcestestingandvaccinationsites
Learn more about the Department of Education COVID-19 College Challenge.
Media Contact:

---
About Bunker Hill Community College
Bunker Hill Community College is the largest community college in Massachusetts, enrolling approximately 18,000 students annually. BHCC has two campuses in Charlestown and Chelsea, and a number of other locations throughout the Greater Boston area. BHCC is one of the most diverse institutions of higher education in Massachusetts. Sixty-five percent of the students are people of color and more than half of BHCC's students are women. The College also enrolls nearly 600 international students who come from 94 countries and speak more than 75 languages.