BHCC Welcomes Faculty and Staff at Convocation 2018
Monday, September 10, 2018
On Thursday, August 30, 2018, Bunker Hill Community College (BHCC) President Pam Eddinger welcomed faculty and staff to campus to celebrate Convocation 2018. An annual tradition that kicks off the academic year for the College, the theme of this year's celebration was on "Collaboration to Advance College Goals."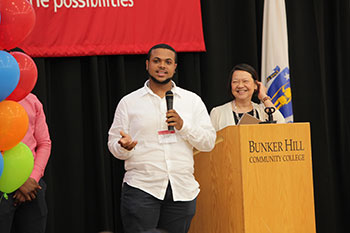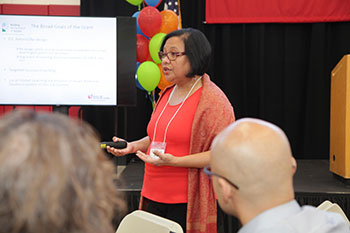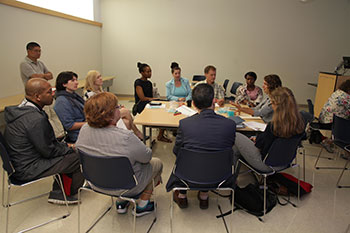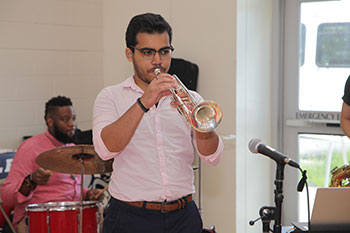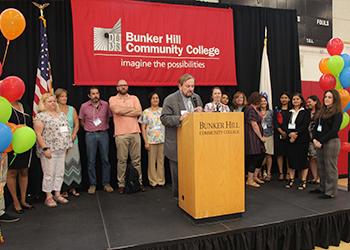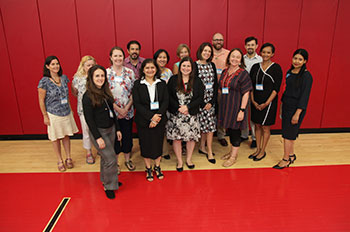 At the event, President Eddinger asked faculty and staff to review the College's mission and vision statements and to consider the meaning of each in the context of their own work. Laying the groundwork for the morning breakout session, President Eddinger reviewed the College Goals developed during the previous academic year and reminded faculty and staff of the Major Initiatives and Milestones taking place at the College that intersect or support one or more of these goals.
"I have watched this College grow in sophistication and stature," said President Eddinger, reflecting on her five years leading the College. "We now understand that our work cannot be monolithic and we recognize that there is always more than one strategy to fostering student success."
At the morning breakout session, faculty and staff were invited to short-format information and Q&A sessions to learn more about the various initiatives taking place at the Colleges. Tables included the Innovation Lab and the Digital Arc; Apprenticeships and Internships; Center for Equity and Cultural Wealth; Dual Enrollment, Early College and Curricular Alignment; and Capital Projects, among many others.
Following the information fair, faculty and staff enjoyed lunch in the College gymnasium where James F. Canniff, Provost and Vice President, Academic and Student Affairs, introduced new faculty and professional staff; and John Pitcher, Vice President, Administration and Finance, introduced new administrators and classified staff to the College.
Molly Ambrose, Associate Vice President, Human Resources and Labor Relations then recognized Marilou Fornari, BHCC's nomination for the Governor Paul Cellucci Award for Leadership & Mentoring in State Government, and the College's six recipients for the Commonwealth Citation for Outstanding Performance: Eyob Firew; Frances Jarvis, Justice Kumahia, Nicole Moro, Elizabeth Tobin and the Math Department Co-requisite Acceleration Team (CADT) that included Khaled Abukhidejeh, Jie Ling Frye, Sunny Kang and Jennifer Sanchez.
Faculty and staff also heard from Kevin Wery, Director of College Events and Cultural Planning, who shared details on the College's 2018-2019 Speaker Series and Inaugural Distinguished Artist Scholar in Residence Dr. Robin M. Chandler whose exhibition "Revolutionary Moments" opens in the Mary L. Fifield Art Gallery on October 4, 2018.
Convocation Highlights Video