Health Science Graduates Receive Pins at Annual Ceremony
Thursday, May 24, 2018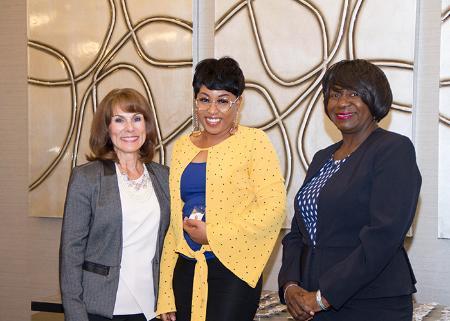 Alice Murillo, Associate Provost, Chelsea Campus, welcomed the graduates, faculty, staff and guests. "Graduates, your day has finally come. We recognize it may have been a challenge. You've done what it takes to get through this program, and to continue to pursue your dreams."
Health Science programs include Allied Health programs (Medical Assistant, Patient Care Technician, Certified Nursing Assistant, Surgical Technology and Central Processing) as well as Pharmacy Technology.
At each ceremony, family and friends joined in the celebration of the graduates' success, as each student was presented with their pin to signify their transition from student to practitioner.
Ann McLaughlin, student speaker representing the patient care technician program, told her fellow graduates, "You deserve this moment. Whether this is the last step in your career or just the beginning, I could not be more proud of all of you. Enjoy this moment while we have it."
Students posed for a group photograph before joining their guests for light refreshments and conversations following their pinning.
View more photos and video from each Health Science Pinning Ceremony on the Ceremony Highlights page.