BHCC Kicks Off the Academic Year at Convocation 2017
Thursday, September 7, 2017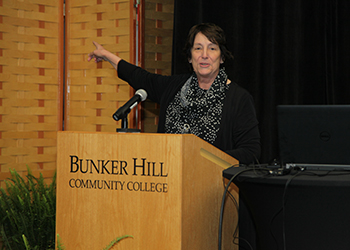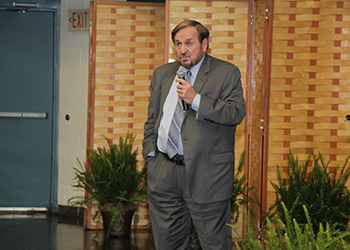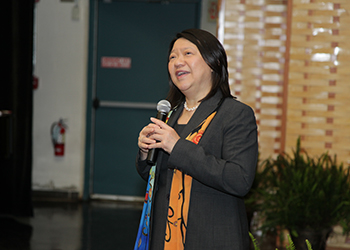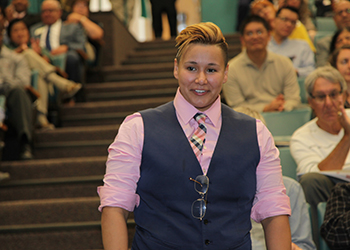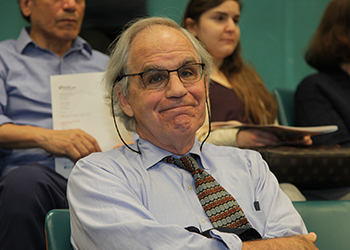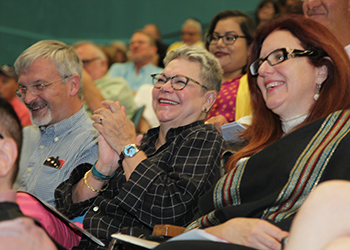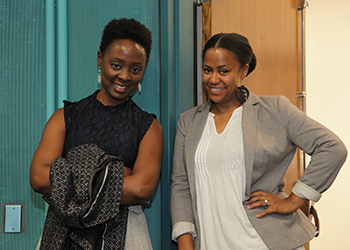 President Pam Eddinger welcomed faculty and staff members back to the campus and spoke to a number of exciting changes taking place at the College, including the construction of state-of-the-art practice rooms for the College's Music Concentration and a new Engineering Lab; the Spring 2017 launch of Student Central, a one-stop center for Financial Aid, Student Payment and Registration and Academic Records; and the proposed shift from a General Education concentration to a Liberal Arts concentration. "We will commit to offering our students a holistic education," said President Eddinger.
Framing the conversation around BHCC's mission and values, she added, "We're moving in a direction where we're hard to catch, leading the field in things like hunger and homelessness and redefining what it means to have a wraparound structure. We're bringing in more students than ever because we are giving our students the opportunities they deserve. We're becoming a student-ready college and meeting our students where they are today, not the other way around."
At the event, James Canniff, Ed.D., Provost and Vice President for Academic and Student Affairs, introduced new faculty and professional staff, and Molly Ambrose, Associate Vice President of Human Resources and Labor Relations, introduced new administrators and classified staff to the College. President Eddinger then recognized the College's five recipients for the Commonwealth Citation for Outstanding Performance: Professor Donna Cummings, Senior Special Programs Coordinator James R. W. (Wick) Sloane, the full-time faculty and staff of the Chelsea Campus, BHCC Facilities and LifeMap.
Sloane, whose efforts in raising awareness to the needs of underserved students at the College and in addressing homelessness and hunger led to his citation award nomination, is also a nominee for the prestigious Manuel Carballo Governor's Award for Excellence in Public Service.
Special guest speaker Dr. Barbara E. Brittingham, President of the Commission on Institutions in Higher Education (CIHE), New England Associate of Schools and Colleges (NEASC), then took to the stage to explain the three-part process of reaccreditation–Self-Study, Site Visit and Commission Action. BHCC is in the process of renewing its accreditation by the regional organization that sets the standards for educational institutions from preschool to the doctoral level, holding them accountable for make the best use of public resources and funding.
Following the presentation, faculty and staff enjoyed music performed a jazz trio at a lunch gathering held in the gym before breaking out for the afternoon's scheduled Department and Division meetings.