BHCC Awarded Gold Medallion for Voices of Hunger Campaign by NCMPR
Friday, October 13, 2017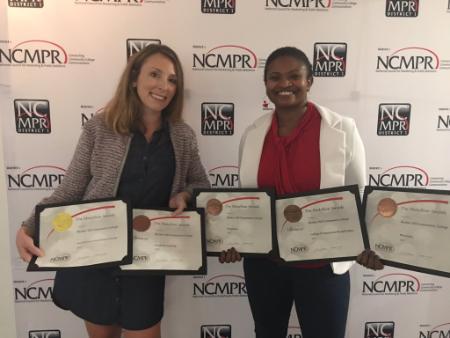 The campaign brought educators and activists together in May 2017 to share high impact practices for addressing food insecurity on campus and to develop steps toward a policy solution. For the event, the College's Integrated Marketing and Communications (IMC) Division created branded pre-event and day-of event collateral, interactive discussion materials and promotional materials as well as a microsite for the event. In the days leading up to the event, participants were invited to the microsite to familiarize themselves with data on food insecurity locally and nationally, and to listen to recorded audio files of students describing their personal experiences with hunger and food insecurity. Following the event, the microsite continues to feature editorial and video coverage from the event and serves as a powerful tool to share progress on addressing food insecurity on campus. For more information, visit Voices of Hunger on Campus.
In addition to the Gold Medallion, IMC received four Bronze Medallions in the regional competition. The awards were announced at a reception on October 10, 2017, at the NCMPR District 1 Conference in Philadelphia, Pennsylvania.
BHCC Magazine received a Bronze Medallion in the Publication category. Written and designed in house by the College's IMC Division, BHCC Magazine serves as a powerful outreach tool for the College to faculty, staff, students, alumni and the larger community. The Spring 2017 edition featured "Food for Thought: BHCC Addresses Hunger on Campus," an editorial from President Pam Eddinger reflecting on the Voices of Hunger event held at the College this spring, as well as a one-on-one interview with Paul Grogan, President and CEO of the Boston Foundation.
The Spring 2017 edition of BHCC Magazine Online also received a Bronze Medallion in the Microsite category. New this year, the digital publication underwent a full redesign, featuring an accessible, mobile friendly design that allows for easy viewing from any device and extras for a more in-depth look into feature articles. View BHCC Magazine Online.
In additional to the magazine, BHCC's Academic Catalog 2017-2019 received a Bronze Medallion in the Academic Catalog category. The fresh design and full content audit of the 2017-2019 College Catalog provide clear, concise delivery of important information to students. View a PDF of BHCC's Academic Catalog 2017-2018.
The Division was also awarded a Bronze Medallion in the College Promotional Brand Video category for a video highlighting the College's Dual Enrollment program. The video features students discussing their experiences as high school students taking college courses at BHCC. Dual Enrollment students earn high school and college credits simultaneously while gaining familiarity with the college experience. The video was produced for the Spring 2017 Dual Enrollment Celebration and featured the achievements of high school graduates who participated in program at Malden High School. Watch the Dual Enrollment Video.
NCMPR District 1 Medallions recognize outstanding achievement in design and communication at community and technical colleges in District 1. For more information, visit NCMPR.org.