Health Science Students Get Ready to Serve
Thursday, May 18, 2017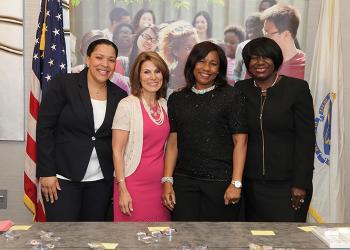 BHCC President Pam Eddinger welcomed the graduates, faculty, staff and guests. She applauded the many students that learned English as a second language to complete their training programs. "It is a joy for me, on occasions like this, to see that your lives will be changing forever. For those that struggled and learned English, you are bi-lingual. You have cultural wealth that no one can take from you and you make the American Dream."
Health Science programs include Allied Health programs (Medical Assistant, Patient Care Technician, Certified Nursing Assistant, Surgical Technology and Central Processing) along with Emergency Medical Studies and Pharmacy Technology. Family and friends joined in the celebration of the students' completion of their program, as each student was pinned and given a rose to signify their transition from student to practitioner. Nisrine Rahhou, the class speaker for the medical assistant program addressed the graduates. "We are not just women and men. We are now medical assistants and technicians!" She also shared an inspiring passage: "to the world we might be one person, but to one person we might be the world."
Students enjoyed light refreshments and conversations after the pinning. They shared their classroom experiences, photos with their families and hugged goodbye.
Massachusetts Department of Higher Education Associate Commissioner of Workforce Development and STEM Chief of Strategy and Operations David Cedrone delivered this year's Keynote Address. He emphasized that there are many opportunities in the healthcare profession and the new graduates will impact many lives. "You are role models for your friends,family and children. Today represents a completion, but I hope you see this as a point on a line of progression. Make this a beginning of a long career. Never stop learning," said Cedrone.
View more photos from the Health Science Pinning Ceremony along with the event program with graduates' names on the Ceremony Highlights page.