Global Graduates
Monday, May 22, 2017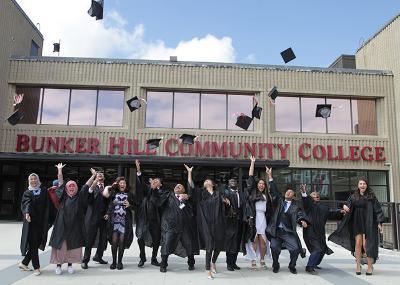 Program coordinator Zoisa Edwards opened the program, and students were recognized for the successful completion of the program by Clea Andreadis, Associate Provost, and Dr. Maria Puente, Interim Dean, Mathematics, Behavioral and Social Sciences.
"CCIP helps participants build technical skills, enhance leadership capabilities and strengthen English proficiency," said Andreadis. "Now that you've achieved this milestone, my wish for you is that you build upon your time here by staying in school and achieving any personal and professional goals you have set."
The program is administered by Northern Virginia Community College (NOVA) on behalf of the Community College Consortium. Sara Mohamed, NOVA Senior Program Manager, and Jonathan Moseley, a representative from one of the many families who hosted students studying at BHCC, were on hand to greet and congratulate students.
Now in its fourth year at BHCC, CCIP is aimed at building diplomacy and understanding and increasing global partnerships. Students spend the year taking classes, meeting members of the Boston community and gaining practical experience through internships. This year's cohort completed a record-breaking 2,000 hours of volunteer service at Boston organizations that included Jumpstart, Ethos, ABCD, the Boston Fire District and City Year.
"One of the gems that we have in this College is the amount of service that our CCIP students give to the community," said Dean Puente. "I hope that value for serving the community remains with each of you as you make your way back home."
It was graduate Melissa Acevedo Bedoya's first time traveling to the U.S. "Today has come," she said, remembering her first week in the country, "The day we imagined in our home countries full of hope, where people from 12 different parts of the world applied to be right here. Our minds were full of questions and concerns. We were like children out in the world for the first time. We were curious, and nothing could stop us, and that curiosity allowed us to achieve not just one dream, but thousands of dreams. We came to America, and visited the places we'd only seen on TV. Each of these moments wouldn't have been possible without each one of you, and at this point, it is difficult to say goodbye to those places and people that we now consider our families. But life is full of experiences, and hopefully, we will see each other again."
The students included three students from Pakistan: Saira Imtiaz, Sobia Malik and Halar Qureshi; two students from India: Himanshu Bhatt and Karim Virani; two students from Indonesia: Andi Octaviani and Sarah Pradoto; one student from Colombia, Melissa Acevedo Bedoya; one student from Turkey, Yasemin Betni; one student from Egypt, Mina Mahrous Morkos; one student from South Africa, Tumelo Mosweu; and one student from Ghana, Enock Yeboah.
View more photos along with the event program with graduates' names on the Ceremony Highlights page.