Making HERstory with Kathy Najimy
Friday, March 10, 2017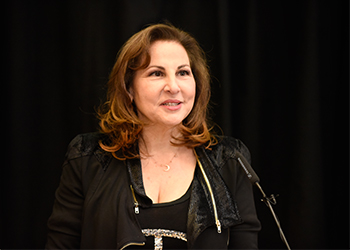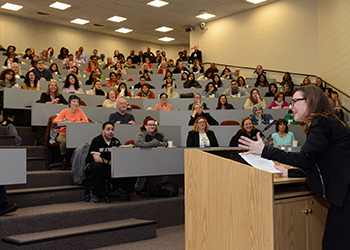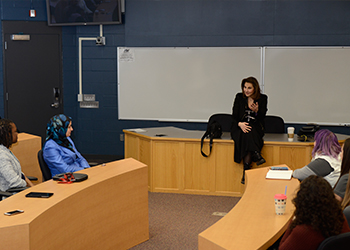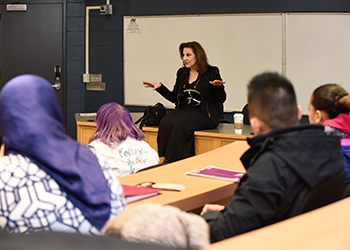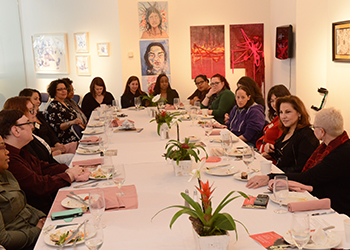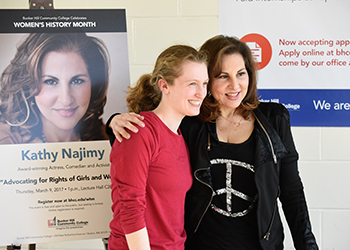 ‌
Known for her scene-stealing roles like Sister Mary Patrick in Sister Act and Sister Act 2 and as the voice of Peggy Hill on King of the Hill, Najimy has entertained audiences for more than 25 years. But she's also used her scene-stealing charm in support of worthy causes worldwide, speaking – and acting – on behalf of women's rights, LGBTQ rights, animal rights, AIDS, eating disorders and more.

Opening with a series of "What If's", Najimy used humor to bring the serious messages of her presentation to the surface:

"If women ran the world… Oprah would be president; Beyoncé would be elected Queen; Lady Gaga would be Supreme Court Diva in Charge. If we ran the world, hate crimes would be gone; fashion crimes really gone. There would be a shorter distance between the very rich and the very poor."

Speaking on "Women & Body Issues", Najimy stressed the importance of advancing progressive social causes for girls, women and others – to give our voice to "the thousands of girls who will spend their childhoods on diets instead of experiments, on scrutiny instead of the solar system, on exercise instead of sports, on obsession instead of love, on anxiety instead of peace and on calories instead of soul."

Before she was an actress, Najimy held many part-time jobs – one as a singing telegram donning a bunny costume. A young woman with a fondness for Bette Midler, Najimy shared how a chance she took to meet the singer has followed her through her career. When Najimy was in college, she coerced her way into Midler's dressing room following a concert in L.A. by pretending she was there to deliver a singing telegram.

Two years later, Najimy found herself as the inspiration behind Midler's role in the blockbuster film, Beaches; Midler played an aspiring actress who makes money on the side as a singing telegram white furry bunny. Then, in 1990, Najimy was cast as Midler's sister in Hocus Pocus.

"Intention is powerful," she said, "And dreams, with a lot of hard work and focus, dreams can come true."

Prior to her presentation, Najimy enjoyed lunch in the Mary L. Fifield Art Gallery, and visited Professor Wissal Nouchrif's Organizational Behavior / Design course. Speaking to a classroom of ACE mentors and international students, Najimy shared stories from her childhood in San Diego. Educated beyond her time, Najimy's mother immigrated to the United States. She had attended college in Beirut and spoke five languages, yet, was unable to fulfill her dreams while balancing family responsibilities in the 1940s and 1950s.

She urged students to find a way to pursue their dreams while getting their education. "Find a way to integrate securing your future," she said, "But, fall back on what your dream is. If you want to be an artist, be an artist, if you want to sing, then sing. You can do those things simultaneously."

Najimy is a former Ms. Magazine Woman of the Year and a recipient of PETA's Humanitarian of the Year Award presented by Sir Paul McCartney. At the forefront of AIDS activism for twenty years, Najimy is applauded by her celebrity peers and friends for her activism and ability to encourage others to take action in support of human causes. Najimy is currently working on an HBO series on The Women's Movement, and she's written a Broadway show about Gloria Steinem that will premiere at Lincoln Center Theater later this year.

Join Bunker Hill Community College for these upcoming events celebrating Women's History Month:

Mother Tongue | March 8 – April 14, 2017
Works by Pan-Asian Boston-area Women Artists
Experience this multimedia group exhibit that explores the complex relationship between personal identity, storytelling and cultural expectations. Mary L. Fifield Art Gallery

International Women Activist Poster Series | March 8 – April 14, 2017
View BHCC alum Betsy Warrior's poster series, featuring an array of globally influential female activists honoring their roles and commitments. 4th Floor Student Lounge, Chelsea Campus

Women in Nursing and Public Health History | March 8 – April 14, 2017
Explore the display featuring the works of women who transformed the healthcare experience and shaped how we understand wellness and patient care. 2nd Floor Corridor, E-Building, Charlestown Campus

Policing the Female Body: Medical Ethics and Personal Rights | March 21, 2017
Participate in a group discussion inspired by BHCC One Book The Immortal life of Henrietta Lacks. Mary L. Fifield Gallery

Truly Eleanor – Delvana Theatre | March 29, 2017
Enjoy this three person theatrical show exploring Eleanor Roosevelt's personal struggles while in the public eye, her deep involvement with her husband's presidency, her political triumphs at the United Nations and her enduring contribution to human rights and personal liberty. A300 Lobby, Charlestown Campus

Learn more about BHCC's Women's History Month Celebration at: bhcc.mass.edu/whm/

Photo Captions: Actress, comedian and activist addressed students in the lecture hall, shared lunch in the Mary L. Fifield Art Gallery and visited a class.