Scholarships and Awards Ceremony Celebrates High-Achieving Students
Tuesday, June 6, 2017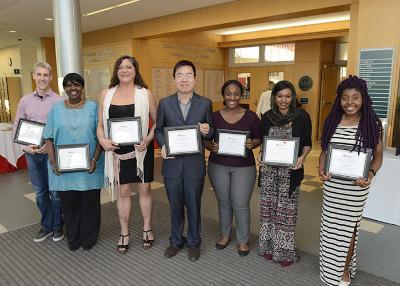 Board of Trustees First Vice-Chair Amy Young, Foundation President Carlton V. Aird and President Pam Y. Eddinger welcomed the students and congratulated them on their achievements.
"I am extremely grateful to our Board of Trustees and our Foundation Board Members for their continuous support and commitment," said President Eddinger. "They donate their time, their resources and their energy in assisting you to achieve what you need to do, to transfer, to launch your career and to really start off on the road to success."
Dr. James Canniff, Provost and Vice President for Academic and Student Affairs, presided at the event. "You should be proud, as we are, of what you have achieved at Bunker Hill Community College," said Dr. Canniff. "Your strengths are the College's strengths. You embody the energy, enthusiasm, intelligence and compassion it takes to make a difference in our local and global communities."
Arlene Vallie, BHCC alumna and Director of Learning Communities, addressed the students on behalf of the faculty and professional staff. "Community colleges are this nation's treasure," said Vallie, who walked through doors of the College on her third day in the United States. "Its graduates, like you and me, are doers, thinkers, creators and innovators."
Several donors who had provided funding for scholarships through the Bunker Hill College Foundation were on hand to present awards to the winning students and have their photos taken with them. Additional scholarships presented during the event were established by the Student Government Association and the College's Board of Trustees.
"We are extremely grateful to you for your commitment to helping students attain the success they deserve," said Aird, recognizing the many donors and their families present at the ceremony. "The scholarships and awards the students are receiving represent hundreds of hours of study and commitment and bode well for their future success."
Students recognized for special achievement or superior academic performance received certificates from their academic departments. Deans Michelle M. Elias Bloomer, Laurie McCorry, Maria Kathleen N. Puente and Lori Catallozzi announced the awards for their division.
A final acknowledgement went to BHCC's 21 Commonwealth Honors Programs graduates, who were personally presented with Commonwealth Honors ribbons and medals by the College President and the Board of Trustees designee.
View more photos along with the event program with scholarship and award recipient's names on the Ceremony Highlights page.