Pinning New Graduates of the Medical Imaging Program
Friday, June 2, 2017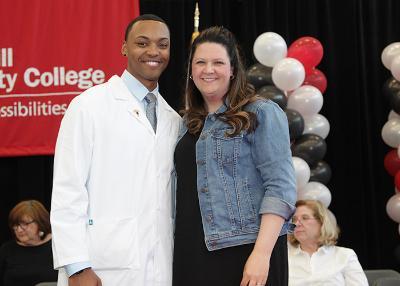 The group received Associate of Science degrees from BHCC's Medical Imaging Program, which prepares students for careers in sonography and radiography. The graduates heard from Medical Imaging Department faculty members Donna Misrati, Michelle Gagnon, Christine Seibert, Lynn Pellecchia and Erin M. Peterson, who each offered the class words of advice for entering their career. The advice centered on civility, patient care and dignity, happiness and optimism, success and achievement and professionalism.
"As you move along in your professions, at first, you will focus a lot on the patient, but then as you get further along in your career, your days will get busier and you will get stressed," said Michelle Gagnon, Professor and Program Director of the Cardiac Sonography Program. "Don't ever forget about the patient, whether it is touching their hand, patting them on the back or a hug at the end of an exam, because I can guarantee that no matter how bad your day is that day–you're late for work, the traffic was awful–their day is worse. Offer them a blanket, a glass of water. If someone looks lost in the hallway, ask them if they need directions somewhere. It will truly change their day, and how they see the hospital institution that you work for."
Many graduates have already secured positions in the Greater Boston area, according to Professor and Chair of the Medical Imaging Department Donna Misrati. "Their success is no accident," said Misrati. "They are very diligent, and they have worked very hard. We know it involved a lot of sacrifice based on many levels. We thank you for supporting them through their educational journey and for being here."
At Wednesday's ceremony, an honorary degree was presented on to Kelsey DeMello, who accepted the degree on behalf of her sister Kayla DeMello, a Medical Radiology student who was killed in a car accident last summer. President Pam Y. Eddinger presented the diploma to the younger DeMello sister, and announced a scholarship in DeMello's name.
"Our celebration today would not be complete without remembering the shining spirt of Kayla DeMello," said President Eddinger. "Kayla was dedicated to helping others. She had a winning smile, a positive attitude, and was loved by her classmates, the faculty and the staff at Mass General Hospital where she did her clinical internship. Kayla's spirit and passion will live on in the success of the scholarship recipients for years to come, and we will forever be grateful."
The Kayla DeMello Memorial Scholarship will be awarded annually to two students who have been enrolled or accepted to the Medical Radiology program at BHCC. This year's recipients are Zainab Lakhani and Thinh Pham, who will enter their second year of the Medical Radiography Program in September.
View more photos along with the event program with graduates' names on the Ceremony Highlights page.