President Eddinger on BHCC Progress, Challenges and Opportunities for 2017
Friday, January 6, 2017
At an Understanding Boston Forum held on January 5, 2017, President Eddinger and other education leaders talked about the progress that has been made in the Boston Public Schools, Bunker Hill Community College and Roxbury Community College. The reports were followed by a discussion of Boston's education pipeline and the opportunities ahead.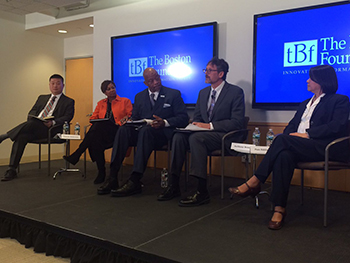 Dr. Eddinger provided an update on BHCC's urban mission, complex student profile and the cultural wealth that BHCC's diverse student body brings to campus. Following campus updates, President Eddinger participated in a panel discussion of the educational challenges and opportunities for 2017, along with Tommy Chang, Superintendent of Boston Public Schools; Dr. Valerie Roberson, President of Roxbury Community College; and Dr. J. Keith Motley, Chancellor of University of Massachusetts Boston.
Watch the video on The Boston Foundation's website.
Photo credit: Elizabeth Pauley @epauley