BHCC Faculty Connects African American History to Pedagogy through the Fifth Annual MAAH Summer Institute
Thursday, August 24, 2017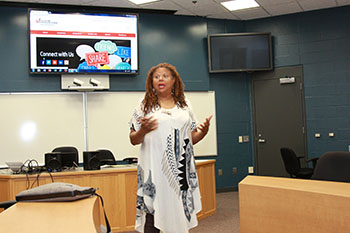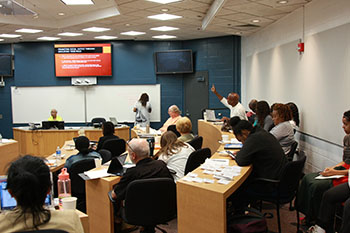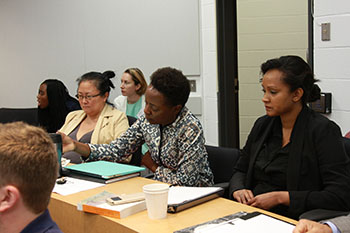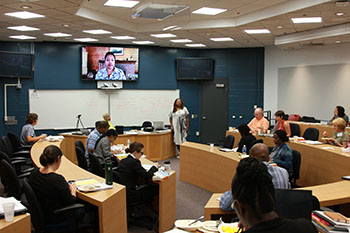 Day One immersed educators in the MAAH on Beacon Hill. Speaking on "Legal Issues with Public Access to Public Spaces," Attorney Charles Walker, Esq., kicked off the three-day Institute. A tour of the African Meeting House and MAAH exhibition Picturing Frederick Douglass by L'Merchie Frazier, MAAH Director of Education and Interpretation, followed. The exhibition features a series of photographs that visually follows Douglass' journey from being self-emancipated to an abolitionist and elder statesman. Douglass used photography as a tool of reform elevating the image of African Americans in contradiction to the inhumane depictions of black life often seen in the 19th century.
Facilitated by Ryan McNabb of the Boston African American National Historic Site, the afternoon brought participants on an adapted tour of the Black Heritage Trail®. Traveling through Beacon Hill, the tour included stops at historical homes, schools and businesses significant to Boston's African American Community, Abolitionist Movement and Underground Railroad Network.
Day Two brought participants to BHCC's Charlestown Campus for a series of presentations by scholars of African American history and literature. Facilitated by historian and retired educator Dr. Vivian R. Johnson, the morning opened with a presentation on "Pedagogy Method & Historical Context." The discussion focused on a "Pedagogy of Possibilities" that looks to history as a lens through which to examine contemporary challenges. Dr. Johnson highlighted African American families from Massachusetts who pursued equal rights during the 19th century in four specific areas: churches, travel, schools and theaters.
"Teachers taught us, as very young black children, that everyone had a purpose and a goal. We had to do an analysis of the circumstances we lived in and research them at a very young age," Dr. Johnson recalled. "The possibilities are always there, you have to simply be willing to look." Dr. Johnson then shared information about 11 sites throughout New England and Canada that provide local perspective to Black history through Black Heritage Trails.
During the afternoon, Dr. Lois Brown, African American Literature and Culture Scholar, spoke to the reclamation, restoration and amplification of public space in a presentation titled "Bias in History."
Day Three opened with a presentation on "Black Protest with Regards to Geographical Space–Policy Development" by Dr. Karilyn Crockett, Director of Economic Policy and Research for the City of Boston. Participants began to put the content they experienced to use during a group activity focused on designing assignments that integrate Museum resources to achieve student learning outcomes in integrative thinking, intercultural knowledge and competence and civic engagement.
Performance poet Regie Gibson closed the Institute with an afternoon workshop, "From Hip Hop to Shakespeare," that offered approaches for addressing social justice issues through poetry and song.
Since 2012, the Museum of African American History and Bunker Hill Community College have engaged in a multifaceted institutional partnership with the core goals of infusing place-based local narratives of African American history into BHCC courses and programs and engaging BHCC students and faculty with the rich history of the Beacon Hill Black community represented by the Museum's historic sites.