Building the Framework for Success
Friday, April 7, 2017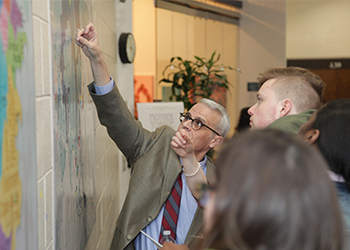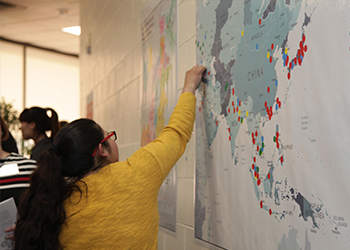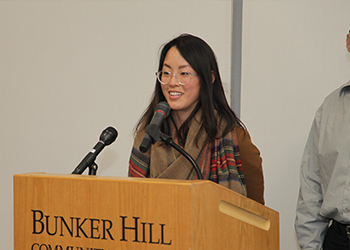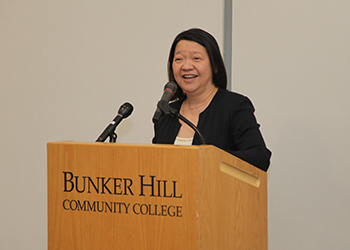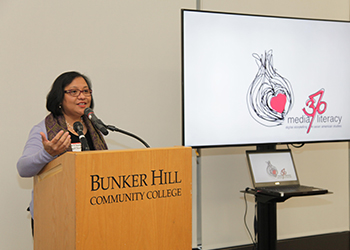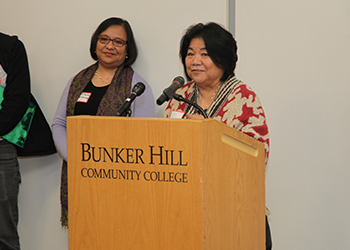 Last fall, BHCC received a $1.7 million grant from the U.S. Department of Education to expand the ESL curriculum to serve the College's large and growing population of Asian American students and English language learners.

The grant coincided with BHCC's first year of being recognized as an Asian American Native American Pacific Islander Serving Institution (AANAPISI), and is being launched under the title Building the Framework for Success. The grant seeks to support and advance the academic success of Asian American and low income students through a comprehensive reform of the ESL curriculum, targeted success coaching and a substantive infusion of local-global learning enhanced by culturally responsive pedagogy across key courses in the general education curriculum.

Appropriately set against the backdrop of the Mary L. Fifield Art Gallery exhibit Mother Tongue: Pan-Asian Boston-Area Women Artists, BHCC President Pam Eddinger addressed stakeholders, partners and the BHCC community. President Eddinger reflected on her childhood as an immigrant to the United States, and expressed her personal dedication to BHCC's diverse population. "I love the multi-lingual and multi-cultural sense of who we are – it's in the DNA of Bunker Hill Community College" said President Eddinger. At BHCC, students come over 105 countries, and more than 75 languages are spoken on the campus.

President Eddinger reminded faculty and staff that encouraging wealth and possibilities is central to BHCC's mission, reminding us that work such as ESL reform is the type of intellectual work that truly grounds the College. "The AANAPISI grant is really the beginning of the actualization of a dream for us," said President Eddinger. "We believe that what we're doing with this grant will result in a template or set of best practices for our work not only within Asian American culture, but also Latino and African American cultures."

Over the next five years, the AANAPISI grant will allow a comprehensive reform of the ESL curriculum that is focused on culturally-appropriate and local-global based learning that is supported by targeted success coaching. President Eddinger and implementation leaders plan to capture data on the success of this integrated model that can support not only Asian American students, but for all English language learners as well.

A main highlight of the launch was the digital story of featured artist and BHCC alumna Linda Cheng, which she produced while a student under the Asian American studies program at UMass Boston. Raised by her maternal grandmother, Linda's family immigrated to the United States from Cambodia. Supported by state and federal funding as a child, Linda felt scared and abandoned once she turned 18 years old. Her language was limited, her possibilities seemingly non-existent. Despite these challenges, Linda was able to take advantage of the services provided through the AANAPISI grant at UMass Boston, and is now back at BHCC, not as a student, but as a full-time employee in the College's Academic Records Department.

"The services of the AANAPISI project have the capacity to change understanding," said Dr. Peter Kiang, Director of the Asian American Studies Program at UMass Boston, and one of the consultants for the BHCC AANAPISI Grant. "Linda's story is one of those transformational representations that every student in this College, if given the opportunity, can do something comparable, and every staff or faculty member here can enable that."

Dr. Maria Kathleen Puente, Interim Dean of the MBSS Division and Project Director of the AANAPISI Grant, shared student retention data from BHCC's Office of Institutional Effectiveness. BHCC's Asian American students are often the first in their family to attend college, are more likely to come from low-income families and are significantly more likely to place into an ESL course.‌
"We all know the power of language in giving one a voice," said Dr. Puente. "This grant is about equity and access. It's about helping our students reclaim who they are by allowing them to progress faster, and by providing services that are culturally responsive."

Dr. Aurora Bautista, Professor of Sociology in the Behavioral Sciences Department, and Activity Director of the AANAPISI Grant, then laid down the structure of the grant at the event. In its first year, four AANAPISI Teams will collaborate, support and inform each other's work to deliver an integrated student experience for ESL students, especially Asian American and low-income students:

The ESL Design Team is charged with a comprehensive reform of the program that will accelerate students' progression to college-level English;
The Local-Global Learning (LGL) Team will complement this reform and further promote academic success by making the curriculum relevant to the students diverse experiences, and incorporating local-global learning activities into 15 Gen Ed courses;
The Targeted Success Coaching (TSC) Team will integrate culturally responsive support services into the academic experience of its students; and
The Project Assessment Team will track the broad, measurable goals of the grant, and introduce student success data disaggregated by the Asian American ethnic groups.

The AANAPISI project team invites you to upcoming activities and opportunities for professional development:
April 11: Lunchtime Conversation with Filipina Poet | Janine Joseph – National Poetry Month Poet
E226, 11:30 a.m. – 1:30 p.m. | Cosponsored by the Office of Learning Communities

April 12: BHCC Dialogue Series Community Supper Discussion | Facilitated by Janine Joseph – National Poetry Month Poet
"Asian Diaspora and the Undocumented Immigrant's Journey in Contemporary America," 5 – 7 p.m.

May 24 & 25: AANAPISI Local / Global Institute | Pao Arts Center (99 Albany Street, Boston)

May 25: "Building the Framework for Success" | AANAPISI Grant Launch with Community Partners
Pao Arts Center (99 Albany Street, Boston), 3:30 – 5 p.m.