State House Ceremony Honors Bunker Hill Community College Graduate
Thursday, May 19, 2016
Bunker Hill Community College (BHCC) student Sondos Alnamos was one of the 29 graduates of Massachusetts public colleges and universities honored at the State House May 9. Governor Charlie Baker, Senate President Stan Rosenberg, Secretary of Education James Peyser and UMass President Marty Meehan attended the "29 Who Shine" ceremony.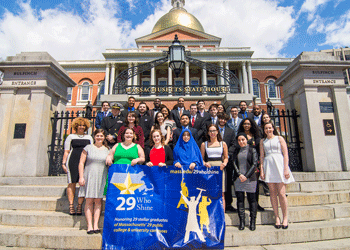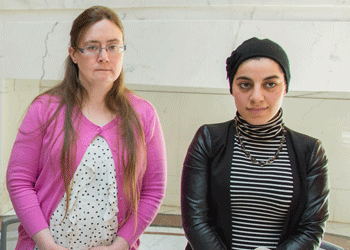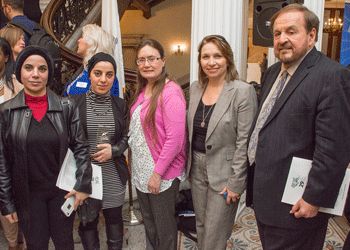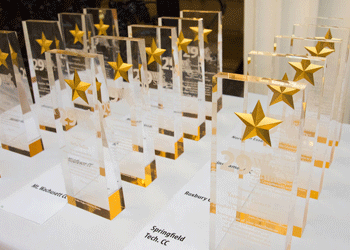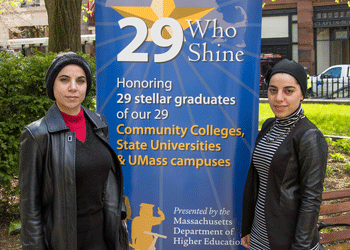 "I congratulate the 2016 award recipients and thank them for their substantial contributions to their campuses and local communities," said Governor Baker. "Each of the 29 Who Shine honorees represents our future citizenry and workforce and has already made a positive impact on the Commonwealth."
"We are extremely proud of Sondos, who is indeed a shining example of courage and leadership," said BHCC President Pam Eddinger, who attended the event along with Alnamos's faculty mentor, Professor JoDe Lavine, of the Science and Engineering Department.
Alnamos was chosen as one of 29 Who Shine based on her academic success, leadership and service to the community. She grew up near Damascus, Syria. Hearing news of loved ones who were killed, kidnapped or lost limbs in the war in Syria, Alnamos's plan to study architecture and design changed. Alnamos wants to use her artistic and engineering skills to design artificial organs and limbs for those injured in war zones. She plans to complete a M.S. and Ph.D. in clinical or tissue engineering.
"The outstanding students on this year's list of 29 Who Shine honorees have come from many countries and overcome many obstacles," said Carlos E. Santiago, commissioner of Higher Education. "I am so proud of what they have achieved and look forward to seeing how they continue to put their talents to work on behalf of us all."
On May 8, Alnamos was featured on Urban Update on WHDH Channel 7. In March she was named a 2016 Coca-Cola Community College Academic Team Bronze Scholar. At Phi Theta Kappa Regional, which took place March 18-19 at the Community College of Rhode Island, she won Third Place in the Fine Arts Competition for her drawing "Vision by Heart."
In addition to her academics, Alnamos volunteers with numerous community organizations, including the Boston Rescue Mission and Little Brothers Friends of the Elderly. She serves as Student Trustee, Co-President of Phi Theta Kappa and Student Administrator of the Commonwealth Honors Program. She is also a member of the Teaching and Learning Institute and the Arab Students Association, and works as an Orientation Mentor at BHCC.
Launched by the Massachusetts Department of Higher Education in May 2011, 29 Who Shine is a commencement season awards program that recognizes 29 outstanding graduates of the Commonwealth's public higher education system. The student must be a Massachusetts resident who has made an outstanding civic contribution to the state and intends to remain in the Commonwealth upon graduation.
Media Contact:

---
About Bunker Hill Community College
Bunker Hill Community College is the largest community college in Massachusetts, enrolling approximately 18,000 students annually. BHCC has two campuses in Charlestown and Chelsea, and a number of other locations throughout the Greater Boston area. BHCC is one of the most diverse institutions of higher education in Massachusetts. Sixty-five percent of the students are people of color and more than half of BHCC's students are women. The College also enrolls nearly 600 international students who come from 94 countries and speak more than 75 languages.