Celebrating Forty Years of Helping
Friday, May 20, 2016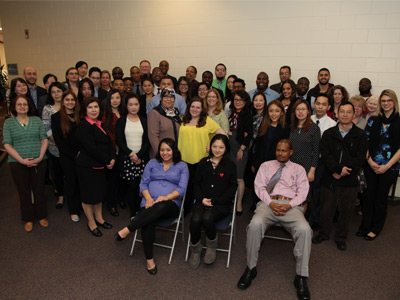 The student volunteers are advanced accounting students who have passed a course in Federal Income Taxation, earned certification by the Internal Revenue Service (IRS) and taken additional training from the Massachusetts Department of Revenue.
On April 25 they celebrated 40 years of providing outstanding service to the community at the VITA Awards Ceremony, held in the A300 Lounge. Student volunteers received IRS certificates; BHCC received the IRS 40 Year Milestone Award. In attendance were Interim Dean Wayne Wormley; Program Coordinator Meghan Naim and VITA staff, including assistants, quality reviewers and intake; and Director of Single Stop Kathleen O'Neill.
Program Coordinator Meghan Naim, who hosted the event, spoke first. "Helping each client allows you to be a part of their lives, even for a moment. Assisting clients in getting their much needed refund may help them to pay rent or even buy groceries," Naim told the students. "We hope you will be inspired to continue with some type of additional service learning." She thanked the students for their hard work and reminded them how their work each day made a positive impact on the community.