Boston Mayor Martin J. Walsh Addresses Bunker Hill Community College Graduates
Saturday, May 21, 2016
Boston Mayor Martin J. Walsh delivered the keynote address today at the 42nd Commencement exercises of Bunker Hill Community College (BHCC) to a full house of graduates, family and friends. A record-breaking 1696 graduates received degrees and certificates, the highest number in the College's history.
BHCC President Pam Eddinger conducted the College's traditional "ritual of gratitude" in which graduates thank all who have helped them through college. She praised the graduating class, saying "I admire your courage, your resilience, your determination. Pass those good things on. Lead others. Our world has a long way to go until everyone is on that path you paved."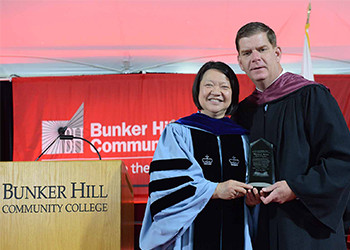 ‌Introducing Walsh, Eddinger praised the Mayor as a powerful force in public higher education. "Mayor Walsh's priorities of economic equity and opportunity, data-driven government, holistic planning to prepare Boston for the future, and closing the achievement gap are aligned with the urban mission of the College," she said.
"Congratulations to the graduates of Bunker Hill Community College on achieving this significant milestone, which represents years of hard work on your journey towards success in the workplace, in life and in your future," said Mayor Martin J. Walsh. "Each of you may have taken a unique path to this degree, but what you have in common is that you earned it. You have shown the grit and determination we need to succeed as a city and as a country, and I wish you all the best in the exciting steps you take in fulfilling your next goal."
At the ceremony the College also recognized Walsh with the President's Distinguished Service Award, the highest honor the College confers on a member of the community. The College honored Mayor Walsh's work in increasing economic development and his commitment to economic inclusion, calling his work with The Equity Agenda, Imagine Boston 2030, Housing a Changing City, and the C40 Global Climate Leadership Group "visionary and inspiring."
Also honored at the event was Amparo Hernandez-Folch, a Professor in the Mathematics Department. She has served Bunker Hill Community College for 28 years. Although she retired from BHCC in December 2015, Professor Hernandez-Folch remains engaged at the College, serving BHCC and its students. "Her passion for community college education and dedication to the success of BHCC students leaves a lasting legacy," said William J. Walczak, Chair of the Bunker Hill Community College Board of Trustees. Hernandez-Folch received the Trustees' Distinguished Service Award, which recognizes extraordinary commitment and service to the College.
The mayor's speech was recorded on Facebook Live and can be viewed at www.facebook.com/BHCCBoston.
Media Contact:

---
About Bunker Hill Community College
Bunker Hill Community College is the largest community college in Massachusetts, enrolling approximately 18,000 students annually. BHCC has two campuses in Charlestown and Chelsea, and a number of other locations throughout the Greater Boston area. BHCC is one of the most diverse institutions of higher education in Massachusetts. Sixty-five percent of the students are people of color and more than half of BHCC's students are women. The College also enrolls nearly 600 international students who come from 94 countries and speak more than 75 languages.