Bunker Hill Community College Gets Up Close with Nightline's Byron Pitts
Wednesday, February 24, 2016
Byron Pitts addressed an audience of students, faculty, staff and guests at Bunker Hill Community College on February 18, 2016, as part of the College's long-running Compelling Conversations speaker series. In an upbeat and hopeful talk, the co-anchor of ABC's Nightline shared his story of growing up in East Baltimore in a single-parent household and struggling to learn how to read and write.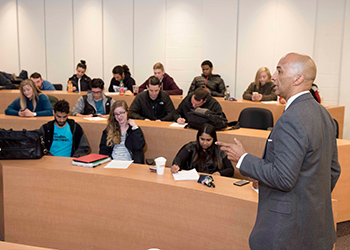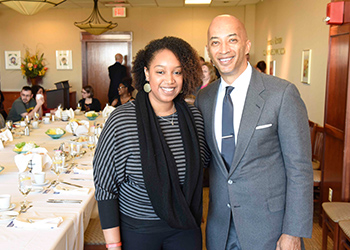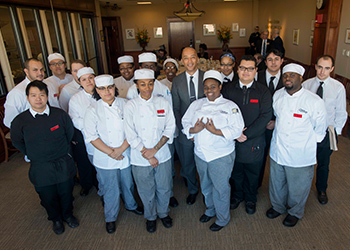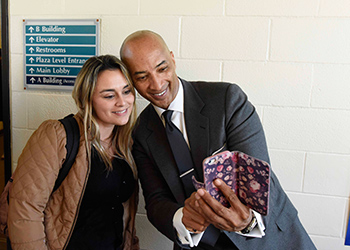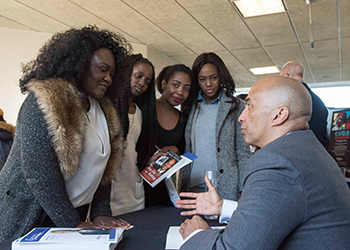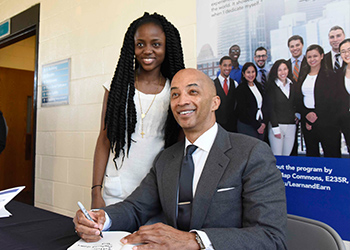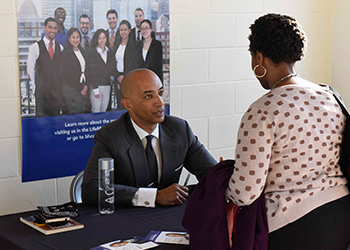 An Emmy-award winning journalist who has covered three wars and personally interviewed six American presidents, Pitts told the audience that he was illiterate until the age of 12 and suffered from a profound speech impediment. Tested for his learning problems as a child, he was judged to be "mentally retarded" and his mother was advised to institutionalize him. When he reached college, a professor told him he was not "college material" and should drop out.
With the help of his mother, who worked as a seamstress in the London Fog coat factory in Baltimore, and an English professor who urged him to stay in school, as well as a roommate who taught him a new word every day, Pitts said, he overcame these difficulties. He went on to earn a bachelor's degree in journalism and speech communication from Ohio Wesleyan University and launch a career in television news.
"I'm here because people stepped out on nothing to help me," he said, echoing the title of his 2009 memoir, Step Out On Nothing: How Family and Faith Helped Me Conquer Life's Challenges. In a successful 34-year career in journalism, Pitts has served as chief national correspondent for CBS Evening News and a regular contributor to 60 Minutes. Pitts also spent six years as a reporter at WCVB Channel 5 in Boston.
Prior to his presentation to a capacity crowd in the lecture hall, Pitts enjoyed a lunch prepared by the College's Culinary Arts students and visited a learning community seminar that explores careers in the behavioral and social sciences. Pitts gave out his personal cell number at the end of class. "The fact that you have overcome so much and made it this far means that you are needed in this world," he told the students. "There's so much more for you to achieve."
For more than a decade, the Compelling Conversations series has brought high-profile speakers to Bunker Hill Community College to discuss their professional experience and provide inspiration for students—from activist Gloria Steinem to boxer Laila Ali, filmmaker Ken Burns, journalist Tavis Smiley and former president of Ireland Mary Robinson. Learn more about the BHCC Compelling Conversations Series at bhcc.edu/cc.
Photo captions: Nightline co-anchor Byron Pitts addressed students in the lecture hall, shared lunch prepared by culinary arts students, and visited a class.
To view more photos from this event, visit our facebook page.

Media Contact:

---
About Bunker Hill Community College
Bunker Hill Community College is the largest community college in Massachusetts, enrolling approximately 18,000 students annually. BHCC has two campuses in Charlestown and Chelsea, and a number of other locations throughout the Greater Boston area. BHCC is one of the most diverse institutions of higher education in Massachusetts. Sixty-five percent of the students are people of color and more than half of BHCC's students are women. The College also enrolls nearly 600 international students who come from 94 countries and speak more than 75 languages.