Press Release
"Jerry" from Ben & Jerry's visits Bunker Hill Community College
Wednesday, April 20, 2016
Jerry Greenfield, co-founder of Ben & Jerry's Homemade, Inc., addressed a packed audience of students, faculty, staff and guests in the gymnasium at Bunker Hill Community College on April 14, 2016. His talk, accompanied with some tasty ice cream treats, was part of the College's highly regarded Compelling Conversations speaker series.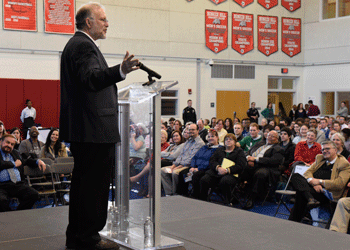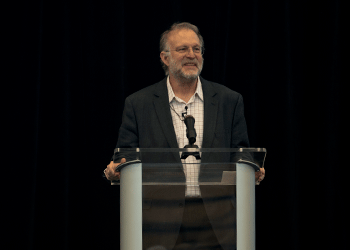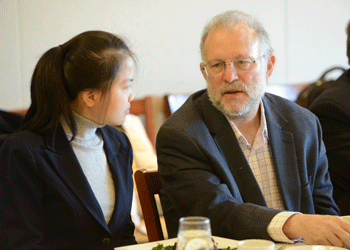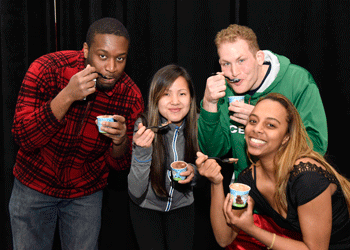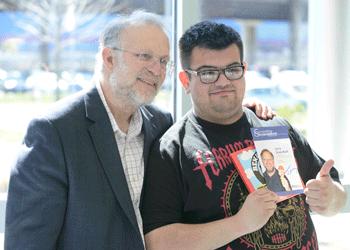 "The real power of any business is in how it conducts its operations," said Greenfield, who told the audience the story of Ben & Jerry's Homemade from its uncertain start in a renovated gas station in Burlington, Vermont, in 1978 to the $300 million ice cream empire it has become today. Along the way, the company learned how to integrate social and environmental values into its business model, Greenfield explained. The business today is known for its commitment to social responsibility and creative management.
Before his talk Greenfield visited with students from Introduction to Business and Organizational Behavior/Design classes as well as members of the College's Entrepreneur and Sustainability Clubs. The students peppered him with questions about combining idealism with successful business practices and the effect on a socially responsible company of going public and being absorbed by a large corporation. Greenfield provided straightforward answers and complimented the students on getting quickly to the fundamental questions. Greenfieldalso enjoyed lunch prepared by BHCC Culinary Arts students.
Greenfield grew up on Long Island and attended Oberlin College. With Ben Cohen, he co-authored the best-seller Ben & Jerry's Double-Dip: Lead with Your Values and Make Money. The two have won the Council on Economic Priorities Corporate Giving Award and have been honored as U.S. Small Business Persons of the Year by the U.S. Small Business Administration.
For more than a decade, the Compelling Conversations series has brought high-profile speakers to Bunker Hill Community College to discuss their professional experience and provide inspiration for students—from activist Gloria Steinem to boxer Laila Ali, filmmaker Ken Burns, journalist Tavis Smiley and actress America Ferrera. Learn more about the BHCC Compelling Conversations Series at bhcc.edu/cc.
Media Contact:

---
About Bunker Hill Community College
Bunker Hill Community College is the largest community college in Massachusetts, enrolling approximately 18,000 students annually. BHCC has two campuses in Charlestown and Chelsea, and a number of other locations throughout the Greater Boston area. BHCC is one of the most diverse institutions of higher education in Massachusetts. Sixty-five percent of the students are people of color and more than half of BHCC's students are women. The College also enrolls nearly 600 international students who come from 94 countries and speak more than 75 languages.