Bunker Hill Community College Publication Wins National Communications Award
Tuesday, April 19, 2016
An admissions welcome kit created by Bunker Hill Community College earned a silver award in the national communications contest sponsored annually by the National Council for Marketing and Public Relations (NCMPR). The awards, which honor outstanding achievement in communications at community and technical colleges, were announced on March 13 at the NCMPR National Conference in St. Louis, Missouri.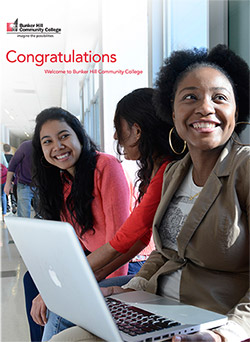 BHCC's winning entry was a large-format folder and booklet including a letter of welcome from the College president and information about programs, learning communities, advising, internships, clubs and transfer possibilities. An array of easily updated inserts in a back pocket provides instructions on registering for courses, setting up an email account, paying fees online and more. Every newly accepted student receives the publication in the mail.
NCMPR presented awards in 53 categories at the Paragon Awards dinner and ceremony, honoring the best work submitted by some 236 colleges for a total of 1,773 entries to the contest. More than 90 marketing and PR professionals from around the country donated their time to review and score this year's Paragon entries.
NCMPR supports the professional development of community college communicators, serving more than 1,700 members from more than 550 colleges across the United States and Canada. It is the only organization of its kind that exclusively represents marketing and public relations professionals at community and technical colleges and is one of the largest affiliates of the American Association of Community Colleges.
Media Contact:

---
About Bunker Hill Community College
Bunker Hill Community College is the largest community college in Massachusetts, enrolling approximately 18,000 students annually. BHCC has two campuses in Charlestown and Chelsea, and a number of other locations throughout the Greater Boston area. BHCC is one of the most diverse institutions of higher education in Massachusetts. Sixty-five percent of the students are people of color and more than half of BHCC's students are women. The College also enrolls nearly 600 international students who come from 94 countries and speak more than 75 languages.