Bunker Hill Community College Intern at Raytheon Wins National Internship Award
Friday, April 29, 2016
John Michael Kawooya, a BHCC student working as an intern at Raytheon in Waltham, Massachusetts, has won the national Two-Year Program Student Achievement Award from the Cooperative Education and Internship Association (CEIA). This is the second consecutive year that a BHCC student has won the award. Jared Standish, who interned at EMC in Hopkinton, Massachusetts, took home the prize last year. Both students were part of the College's Learn and Earn program, which offers students paid internships at top companies in Greater Boston.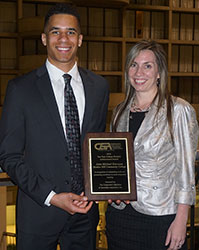 "This is a great testimony to John Michael's dedication and work ethic," said Sharon Schaff, BHCC Director of Career Advancement and Internships. "We are thrilled to have long-standing partner Raytheon represented and are grateful for the company's role in guiding more than 70 BHCC students over the past four years."
Kawooya received $500 and attended the CEIA National Conference in Dallas, Texas, April 3‑5, where he participated on a panel with students attending four-year colleges or earning their master's degrees. His remarks won applause from the audience.
Kawooya, a network technology major, began his internship at Raytheon in January 2015. In March he created an asset-tracking algorithm that got the attention of management and is currently adopted within the division. The first IT intern to be hired among 33 BHCC STEM interns at Raytheon, Kawooya said he was grateful for the mentorship and support of his intern manager, Shawn Garside; he accepted a full-time position as a network engineer in August 2015.
More than 435 students have now taken part in the Learn and Earn program, gaining experience in an array of industries, from information technology and financial services to the defense and pharmaceutical industries.
The Learn and Earn program launched in 2012 with five corporate partners: Raytheon, State Street, Suffolk Construction,BJ's Wholesale Club and EMC. Since then the program has expanded to include 12 additional partners: Bank of America, Beth Israel Deaconess Medical Center, The Boston Foundation, Dovetail Health, Eaton Vance, Fidelity Investments, Liberty Mutual, Putnam Investments, Staples, Tufts Technology Services, UBS and Vertex Pharmaceuticals. In 2015, Learn and Earn won the Outstanding College/Corporate Partnership national Award of Excellence from the American Association of Community Colleges. More information at bhcc.edu/learnandearn and CEIA.
The CEIA has been the leader in work-integrated learning practices for more than 50 years. More than 1,600 colleges and universities are members.
Media Contact:

---
About Bunker Hill Community College
Bunker Hill Community College is the largest community college in Massachusetts, enrolling approximately 18,000 students annually. BHCC has two campuses in Charlestown and Chelsea, and a number of other locations throughout the Greater Boston area. BHCC is one of the most diverse institutions of higher education in Massachusetts. Sixty-five percent of the students are people of color and more than half of BHCC's students are women. The College also enrolls nearly 600 international students who come from 94 countries and speak more than 75 languages.