Press Release
Bunker Hill and MassBay Students Place 1st at Annual Mass Society of Radiologic Technologists Buzz Bowl
Tuesday, April 26, 2016
Bunker Hill Community College and MassBay Community College are pleased to announce a student radiology team has placed first at this year's Massachusetts Society of Radiologic Technologists (MSRT) Buzz Bowl competition. The Buzz Bowl was part of the MSRT 85th Annual Conference. This year's theme was "Pathways to Excellence in Diagnostic Imaging."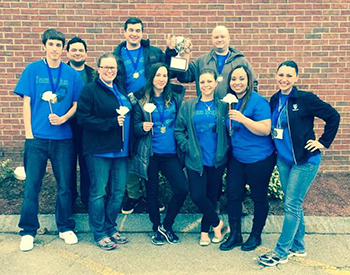 The Massachusetts Society of Radiologic Technologist hosted the Buzz Bowl competition to challenge students' knowledge in the field of Radiologic Technology. The six-member student team from Brigham and Women's Hospital, which included three MassBay Radiologic Technology students and three Bunker Hill Community College Radiologic Technology students, beat out eight other teams from across the state.
The student team participants included: Team Captain Kevin Tavares of Dedham (MassBay), Meaghan Sawin of North Grafton (MassBay), Ian Palmer of Wayland (MassBay), Charles Ruckdeschel of Malden (Bunker Hill), Jennylee Rodriguez of Dorchester (Bunker Hill), and Leanne Milton of Everett (Bunker Hill). Students were coached by Victoria Glassman, Tiziana Stuto, and Christopher Mercurio from Brigham and Women's Hospital.
"We are extremely proud of our students' stellar performance and of the faculty who help prepare the highest caliber of healthcare professionals for the MetroWest region," said MassBay Interim President Yves Salomon-Fernandez.
"These programs provide an opportunity for our students to put their academic excellence to the test," said Bunker Hill Community College President Pam Eddinger. "We are pleased to see our students' hard work being rewarded."
Brigham and Women's Hospital selects students based on their competent application of key radiographic concepts and demonstration of professionalism in their clinical practice. The students have been working since fall 2015 in preparation for the Buzz Bowl competition. The Buzz Bowl tests student knowledge on Radiation Protection, Radiation Physics, Radiographic Technique, Patient Care, and Radiographic Procedures. MassBay Community College and Brigham and Women's Hospital have maintained a clinical affiliation for the benefit of providing practical application of Radiologic concepts in the hospital setting. Brigham and Women's Hospital Clinical Instructors Victoria Glassman and Tiziana Stuto provide a valuable service to the MassBay students and are greatly appreciated by the MassBay Radiologic Technology Program.
"I am extremely proud of our students' performance in the Buzz Bowl competition at our annual Massachusetts Society of Radiologic Technology conference," said MassBay Clinical Coordinator for Radiologic Technology Karen Steinhoff. "Our program is grateful for the opportunity our affiliation with Brigham and Women's Hospital has provided to our students."
"The BHCC Medical Radiography Program has enjoyed a longstanding and wonderful relationship with Brigham and Women's Hospital, and many of our students have participated through the years on outstanding Buzz Bowl Teams mentored by their Clinical Instructors and staff, "said Bunker Hill Chair of the Medical Imaging Department and Medical Radiography Program Director Donna Misrati. "Our thanks to everyone at BWH for providing such an educationally sound clinical environment and allowing our students the opportunity to benefit from it."
In addition, two MassBay Radiology students were also awarded scholarships from MSRT at the annual conference. Victoria Desimone of Waltham was presented with the Oliver E. Merrill/Florence Wakefield Scholarship ($750), named in honor of two extraordinary technologists, Oliver E Merrill and Florence Wakefield, and given to an entry level student in Radiography, nuclear Medicine or Radiation Therapy. Christine Sheehan of Norwood was presented with the MSRT Quarter Century Club Entry Level Student Scholarship ($1,000), which is awarded annually to two entry level students in Radiography, Nuclear Medicine and Radiation Therapy.
Click here for more information on MassBay's Health Science Division.
Click here for more information on Bunker Hill's Health Science Division.
Click here for more information on the Massachusetts Society of Radiologic Technologists.
MassBay Community College was recently ranked by the Brookings Institution as one of the top schools for value added and earned salaries in the workforce. Ranked #1 for 2-year colleges in Massachusetts, #2 in New England and ranked #16 nationally. The College's facilities in Wellesley Hills, Framingham and Ashland house day, evening and weekend classes that meet the needs of degree-seeking students and career minded life-long learners. Online options provide convenience and allow faculty to facilitate the learning process. Since its founding in 1961, MassBay has been accredited by several governing bodies and strives to meet the needs of the diverse local communities it serves.
Media Contact:

---
About Bunker Hill Community College
Bunker Hill Community College is the largest community college in Massachusetts, enrolling approximately 18,000 students annually. BHCC has two campuses in Charlestown and Chelsea, and a number of other locations throughout the Greater Boston area. BHCC is one of the most diverse institutions of higher education in Massachusetts. Sixty-five percent of the students are people of color and more than half of BHCC's students are women. The College also enrolls nearly 600 international students who come from 94 countries and speak more than 75 languages.