Press Release
Tavis Smiley Energizes Bunker Hill Community College Audience
Friday, October 23, 2015
Talk show host and bestselling author Tavis Smiley kicked off Bunker Hill Community College's annual Compelling Conversations speaker series on Thursday, October 22, with an upbeat talk about optimism and hope that brought cheers and laughter from the audience. Before the lecture, Smiley enjoyed a lunch with students and staff in the College art gallery and met with students in Professor James Rogash's journalism class. Smiley answered student questions and told them the best journalists are "generous listeners."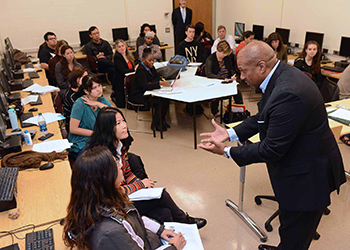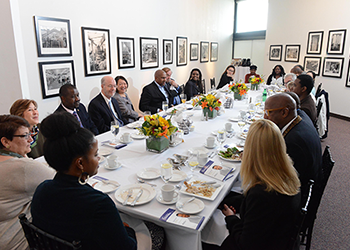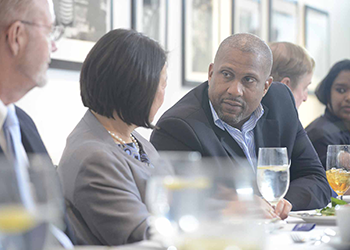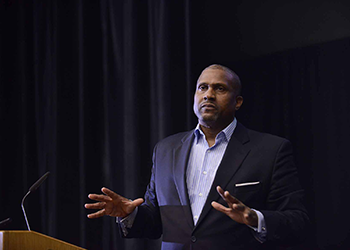 Sharing his own story during his lecture in the College auditorium, Smiley described growing up in a three-bedroom trailer with nine siblings, his parents and his grandmother. He told the audience about the epiphany he had at age 35 when he realized that, given the life expectancy for black men, he already had fewer years ahead of him than behind him. He urged the students to write a mission statement for their own lives and use their time well.
Smiley was born in Mississippi and grew up in a town in Indiana called Bunker Hill. He said that he had built his life on hope. He talked his way into an internship and then landed a job with Los Angeles Mayor Tom Bradley to launch his career in communications. In 2004 he became the first person of color to have his own daily show on National Public Radio.
"You have a role to play in shaping America to be as good as its promise," he told the students. He said they should give themselves an assignment to do something about an issue they encounter every day. "By brightening the corner where you are, you can have a huge impact," he said.
TIME magazine has listed Smiley among "The World's 100 Most Influential People." He has been honored with a Star on the Hollywood Walk of Fame. Smiley is currently the host of the late-night television talk show Tavis Smiley on PBS, as well as The Tavis Smiley Show from Public Radio International (PRI). He is the author of 18 books.
For a decade, Compelling Conversations has brought high-profile speakers to Bunker Hill Community College to discuss their professional experience and provide inspiration for students. Speakers have ranged from author Wes Moore and advocate for the deaf and Academy Award-winner Marlee Matlin to Grammy award-winning rapper Ice-T and documentary filmmaker Ken Burns. Learn more about the BHCC Compelling Conversations Series at bhcc.edu/cc.
Media Contact:

---
About Bunker Hill Community College
Bunker Hill Community College is the largest community college in Massachusetts, enrolling approximately 18,000 students annually. BHCC has two campuses in Charlestown and Chelsea, and a number of other locations throughout the Greater Boston area. BHCC is one of the most diverse institutions of higher education in Massachusetts. Sixty-five percent of the students are people of color and more than half of BHCC's students are women. The College also enrolls nearly 600 international students who come from 94 countries and speak more than 75 languages.