Medical Imaging Program Pins New Graduates
Thursday, June 11, 2015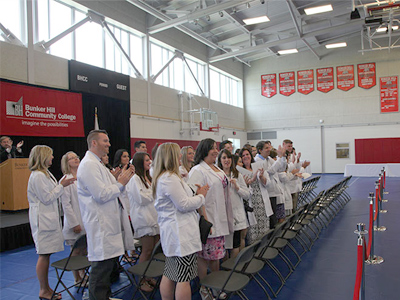 The group received associate of science degrees from BHCC's Medical Imaging program, which prepares students for careers in sonography and radiography and grants associate of science degrees in the disciplines. Derek Carver, '95, Manager of Education and Training in the Diagnostic Radiology department at Children's Hospital Boston, drew on 20 years of work experience to inspire students. "We all start our training at BHCC with fears, hopes and pockets full of dreams. Many of your dreams can actually come true with the training that BHCC offers. I know mine did."
Many graduates have already secured positions in healthcare institutions in the Greater Boston area, according to Chair of the Medical Imaging Department Donna Misrati. "Our graduates represent the best and brightest in medical imaging, and will serve the surrounding community well," she said.
Tea Gojak, 2015 radiography graduate, will attend Regis College in Weston, Massachusetts, where she plans to study mammography for a year. Gojak competed in the Massachusetts Society of Radiologic Technologists' Buzz Bowl competition, which engages teams of students from local hospitals and two- and four-year institutions of higher education. The teams compete to answer questions which are directly related to the registration board exams that students must pass to become registered technologists. "We were undefeated for the past two years, which gave me the confidence to succeed," said Gojak. She hopes to work for a medical equipment manufacturer, teaching hospital employees how to use medical equipment.
View more photos from the Medical Imaging Ceremony on the Ceremony Highlights page.