Celebrating 10 Years of Taking a Stand
Friday, June 12, 2015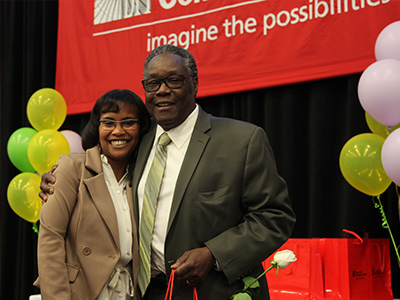 "We continue to grow, which is exciting, but more important, we are building relationships and developing the healthcare leaders of tomorrow," said La Toya T. Robinson, Director of STAND and Pathways to Prosperity.
The 2015 graduating class will enter BHCC in fall 2015 and join the ranks of students working their way toward certificates in the Nursing and Allied Health Certificate programs. "I am proud to say that I have been accepted into BHCC's nursing program. Without the help of La Toya [Robinson] and Corry [Banton] I would probably still be on a waiting list," said one of the event's student speakers, Chavonne Dunbar. Jermel Target, R.N., also spoke at the event.
STAND partner schools include Somerville High School, its newest partner, as well as Jeremiah E. Burke High School, the Edward M. Kennedy Health Careers Academy, the Community Academy of Science and Health, the Urban Science Academy and Madison Park High School.
"Nursing is an exceptionally challenging program, so to be able to help students achieve their career goals and academic dreams is a great privilege for me," said Corry Banton, Program Coordinator of STAND and Pathways to Prosperity.
The STAND staff thanked the BHCC faculty and staff who have supported students by teaching dual enrollment classes and tutoring. The staff also thanked the program's community partners, which include the nursing staff of both Boston Medical Center and Boston Children's Hospital. Guest Speaker Eva Gomez, Staff Development Specialist at Boston Children's hospital, who has hosted STAND dual enrollment students annually for a decade, addressed the gathering.