Bunker Hill Community College Welcomes Delegation of Chinese Academics
Monday, December 14, 2015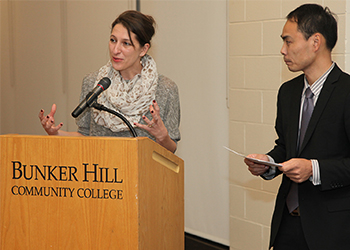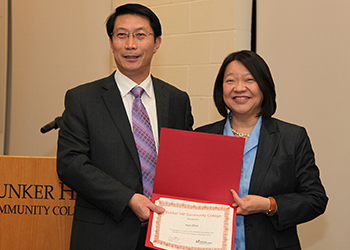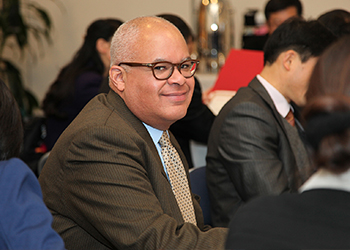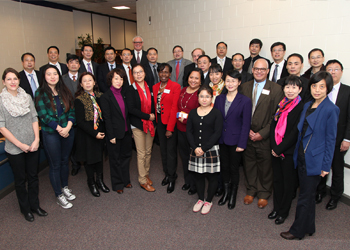 The group's visit included a meal at Empire Garden restaurant in Boston's Chinatown neighborhood. The cashier at the restaurant typified the BHCC student profile, explained President Pam Eddinger to the visitors. The former BHCC student had enrolled in 2001, raised a family, and was planning to return to the College to finish her degree.
An afternoon presentation at the College included an overview of Bunker Hill Community College's academic and certificate programs led by Provost and Vice President of Academic and Student Affairs James Canniff and President Eddinger. With the aid of a translator, the visitors engaged in a discussion of the College's strategic partnerships and asked questions about BHCC's curriculum and how the College meets the needs of its diverse student body, among other issues. "The idea of a community college is that we are an anchor of democracy in the U.S.," said Eddinger. "Everyone has the right to an education."
After the presentation, Executive Director of the International Center Vilma Tafawa and Director of Student Activities Paul Moda led a campus tour. The group wrapped up the daylong visit with a reception in the Mary L. Fifield Art Gallery to discuss Haymarket, The Soul of the City: Photographs by Justin Goodstein. Margarita Shulman of Global Corporate College, which offers linguistic and cultural training to corporate employees, facilitated the talk.
Caption: As part of their visit to American community colleges, a delegation of Chinese educators met with BHCC faculty and staff, received individual citations from President Eddinger, and stopped by the College art gallery during a tour of the Charlestown Campus.