Bunker Hill Community College Applauds Nobel Laureate Tawakkol Karman
Tuesday, April 14, 2015
Yemeni women's rights activist and Nobel Peace Prize laureate Tawakkol Karman visited BHCC as part of the College's annual Compelling Conversations speaker series. Before her talk, Karman enjoyed a lunch prepared by Culinary Arts students, and met with members of the Islamic and Arab Student Associations and the Student Government Association. After her presentation, Karman answered questions from the audience and signed autographs in the college Art Gallery.
‌‌‌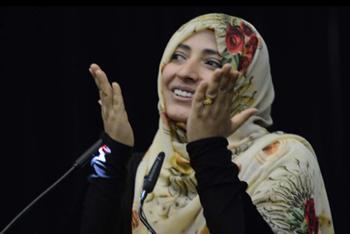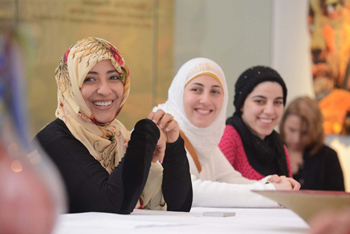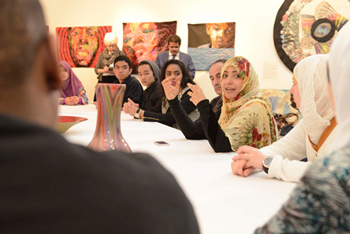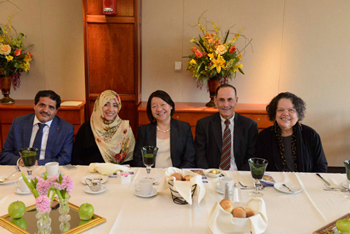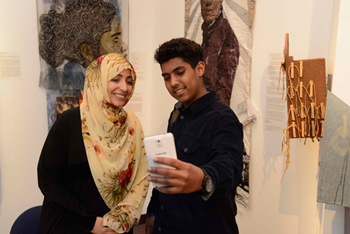 ‌
The first Yemeni and the first Arab woman to win the Nobel Peace Prize, Karman was a leader of the mass uprising in Yemen that forced President Ali Abdullah Saleh to resign in 2011. A senior member of the Al-Islah political party, Karman continues to work for democracy in Yemen, despite the deteriorating security situation in the country.
"I expect a lot from all of you," said Karman, who noted that "it is the Facebook and Twitter generation, the new generation," that drives change in Yemen. Karman encouraged BHCC students to embrace freedom and equality, the values of America's founders.
For a decade, Compelling Conversations has brought high profile speakers to Bunker Hill Community College to discuss their professional experience and provide inspiration for students. Speakers have ranged from feminist Gloria Steinem and advocate for the deaf Marlee Matlin to Grammy award-winning rapper Ice-T. Learn more about the BHCC Compelling Conversations Series at bhcc.edu/cc.
Media Contact:
Karen M. Norton, Executive Director of Integrated Marketing and Communications
Bunker Hill Community College, Boston, MA 02129
Phone: (617) 228-2177; Email: kmnorton@bhcc.edu
---
Bunker Hill Community College is the largest community college in Massachusetts, enrolling approximately 19,000 students annually. BHCC has two campuses in Charlestown and Chelsea, three satellite locations and a number of instructional centers throughout the Greater Boston area. BHCC is one of the most diverse institutions of higher education in Massachusetts. Sixty-five percent of the students are people of color and more than half of BHCC's students are women. The College also enrolls nearly 1,000 international students who come from 100 countries and speak more than 75 languages.