Bunker Hill Community College Celebrates Veterans Day with Author Rye Barcott
Monday, November 10, 2014
Former U.S. Marine Rye Barcott visited Bunker Hill Community College on November 6 in honor of Veterans Day 2014. He met with students in the Learning Community Seminar Media Literacy in the 21st Century, enjoyed a lunch prepared by Culinary Arts students in the College dining room, stopped in at the Veterans Center, and signed copies of his book following a talk he delivered to an audience of faculty, staff, students and visitors.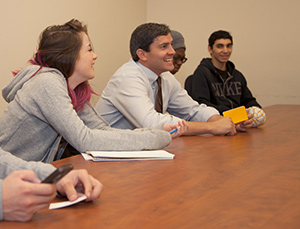 Drawing upon his experiences as both a U.S. Marine and the founder of the nongovernmental organization Carolina for Kibera, Barcott urged students to find ways to use their talents to create opportunities. He reminded them that by earning their degrees they will be "joining a global elite [because] only five percent of the world's population holds a college degree." He urged them to take risks in the service of others, to make one another better people, and to keep in mind that "everything that matters is difficult."
Barcott served as a Marine in Iraq, Bosnia and the horn of Africa. His book It Happened on the Way to War describes "fighting war, and waging peace." The organization he established in the settlement of Kibera, Kenya, while serving in the military uses a unique model of participatory development to break cycles of violence and extreme poverty. Acclaimed by Archbishop Desmond Tutu as "tremendous," the book was named one of the best non-fiction titles of the year by Reader's Digest.
Media Contact:

---
About Bunker Hill Community College
Bunker Hill Community College is the largest community college in Massachusetts, enrolling approximately 18,000 students annually. BHCC has two campuses in Charlestown and Chelsea, and a number of other locations throughout the Greater Boston area. BHCC is one of the most diverse institutions of higher education in Massachusetts. Sixty-five percent of the students are people of color and more than half of BHCC's students are women. The College also enrolls nearly 600 international students who come from 94 countries and speak more than 75 languages.