Senator Edward Markey to Address Bunker Hill Community College Commencement
Thursday, May 22, 2014
U.S. Senator Edward J. Markey will be the commencement speaker at Bunker Hill Community College's 40th Commencement exercises on May 31, 2014.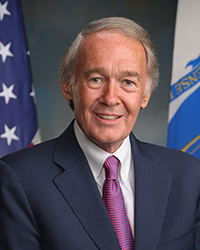 Regarded as a leader on energy, environmental protection and telecommunications policy, Markey served for 37 years in the U.S. House of Representatives before his election to the Senate in 2013 to fill the seat formerly held by John F. Kerry. Markey also served for three years in the Massachusetts House of Representatives.
Markey is currently a member of the U.S. Senate Committee on Foreign Relations, where he serves as Chairman of the Subcommittee on International Development and Foreign Assistance, Economic Affairs, International Environmental Protection, and Peace Corps. In addition, Markey serves on the U.S. Senate Committees on the Environment and Public Works Committee; Commerce, Science and Transportation; and Small Business and Entrepreneurship. In recognition of his national leadership on environmental issues, Markey was named Chair of the Senate Climate Change Clearinghouse.
Markey was born in Malden, Massachusetts. Like many BHCC students, he was the first in his family to go to college. He earned a B.A. from Boston College and a J.D. from Boston College Law School. Upon graduation from law school, he worked as a lawyer in private practice. Markey was a member of the U.S. Army Reserve.
Media Contact:

---
About Bunker Hill Community College
Bunker Hill Community College is the largest community college in Massachusetts, enrolling approximately 18,000 students annually. BHCC has two campuses in Charlestown and Chelsea, and a number of other locations throughout the Greater Boston area. BHCC is one of the most diverse institutions of higher education in Massachusetts. Sixty-five percent of the students are people of color and more than half of BHCC's students are women. The College also enrolls nearly 600 international students who come from 94 countries and speak more than 75 languages.