Whole Foods "5% Day" Raises Funds for Bunker Hill Community College Scholarship
Wednesday, July 23, 2014
Whole Foods Market in Charlestown, Massachusetts, donated 5% of the net proceeds of purchases made by customers on June 17, 2014, to the Bunker Hill Community College Foundation. The fundraising effort netted $3,480, which will be used for scholarship support for a Charlestown resident attending the College.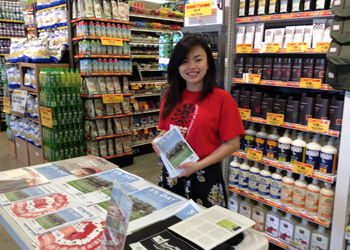 "This project represented a collaborative effort between BHCC and Whole Foods Market Charlestown," said Executive Director of the BHCC Foundation Marilyn K. Kuhar. "We are grateful to Whole Foods Market for giving us this opportunity, to the students and volunteers from the BHCC community who helped, and to the shoppers who, through their purchases, have helped a Charlestown resident pursue the dream of a college education."
BHCC students and volunteers greeted Whole Foods Market customers and distributed information about the College throughout "5% Day." The BHCC Charlestown Resident Scholarship goes annually to a BHCC student and resident of Charlestown who is in good academic standing and has demonstrated outstanding service to the community.
Four times a year, Whole Foods Market Charlestown gives back to the Charlestown community by selecting a local organization as the beneficiary of "5% Day" proceeds. This was the first time BHCC has benefited from this community outreach effort.
The Bunker Hill Community College Foundation, a nonprofit organization, raises funds for scholarships and other programs that enable students with diverse educational, ethnic and cultural backgrounds to benefit from a high-quality, affordable post-secondary education.
Media Contact:

---
About Bunker Hill Community College
Bunker Hill Community College is the largest community college in Massachusetts, enrolling approximately 18,000 students annually. BHCC has two campuses in Charlestown and Chelsea, and a number of other locations throughout the Greater Boston area. BHCC is one of the most diverse institutions of higher education in Massachusetts. Sixty-five percent of the students are people of color and more than half of BHCC's students are women. The College also enrolls nearly 600 international students who come from 94 countries and speak more than 75 languages.