Bunker Hill Community College Receives National Award from Achieving the Dream
Monday, February 24, 2014
Bunker Hill Community College (BHCC) received the Leah Meyer Austin Award for its success in increasing student retention and completion at the annual conference of Achieving the Dream in Orlando, Florida, today. Along with this prestigious recognition, BHCC will receive $25,000 to support its ongoing student success work. BHCC shared the honor with Montgomery County Community College.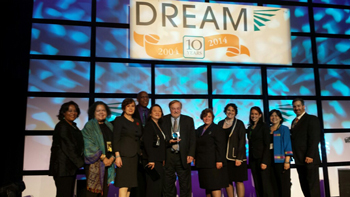 "Helping students persist in their studies and walk across the stage at commencement to receive their hard-earned degree or certificate is what we are all about," said Pam Y. Eddinger, President of BHCC. "We are honored to be recognized for work that is so central to our mission."
The award honors BHCC's focus on college wide, data-informed decision making that has resulted in measurable increases in critical areas. The college has:
Increased fall-to-fall persistence from 41 percent to 51 percent
Improved black students' completion rates from 68 percent to 72 percent
Increased Latino students' completion rates from 68 percent to 74 percent
Raised completion rates in gateway English from 67 percent to 74 percent
Improved completion rates in developmental English courses (reading and writing) from 72 percent to 78 percent
BHCC attributed its impressive gains to strategies basic to Achieving the Dream's Student-Centered Model of Institutional Improvement: committed leadership, use of evidence, broad engagement, systemic institutional improvement, and equity. BHCC embraced the Achieving the Dream model to meet the needs of specific student populations, with a particular focus on the highest-need students.
The Leah Meyer Austin Award, sponsored by The Leona M. & Harry B. Helmsley Charitable Trust, was established in 2008 to recognize outstanding achievement in supporting and promoting student success through the creation of a culture of evidence, continuous improvement, systemic institutional change, broad engagement of stakeholders, and equity, with particular attention to low-income students and students of color.
Media Contact:

---
About Bunker Hill Community College
Bunker Hill Community College is the largest community college in Massachusetts, enrolling approximately 18,000 students annually. BHCC has two campuses in Charlestown and Chelsea, and a number of other locations throughout the Greater Boston area. BHCC is one of the most diverse institutions of higher education in Massachusetts. Sixty-five percent of the students are people of color and more than half of BHCC's students are women. The College also enrolls nearly 600 international students who come from 94 countries and speak more than 75 languages.