Bunker Hill Community College Takes Top Communications Awards
Friday, October 25, 2013
Bunker Hill Community College (BHCC) won nine awards – including four Gold Awards – in the annual regional communications competition sponsored by the National Council for Marketing & Public Relations (NCMPR).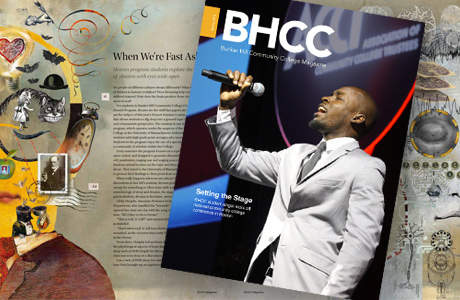 The College took top honors in NCMPR's regional competition last year as well, and has garnered numerous awards in the organization's national competitions. This year's awards were announced October 21 during the NCMPR regional annual conference in Mystic, Connecticut, after judges from across the country evaluated entries in 40 categories.
This year, a Gold Award went to the spring and summer 2013 issues of BHCC Magazine. A magazine illustration, which highlighted an honors program dealing with the subject of dreams, also won a Gold Award for digital illustration. BHCC won additional Gold Awards in the areas of transit advertising and marketing campaigns.
Silver Awards went to the College's website and course schedule. The College won Bronze Awards in the categories of academic catalog and booklet. Additionally, the College earned a Silver Award in the wildcard category for a set of murals defining an office suite for a major new program. To view communications awards the College has received since 1999, visit www.bhcc.mass.edu/imc/awards.
NCMPR represents marketing and public relations professionals at community and technical colleges and has more than 1,500 members from nearly 650 colleges. NCMPR's northeast regional district covers Massachusetts, Connecticut, Delaware, District of Columbia, Maine, Maryland, New Hampshire, New Jersey, New York, Pennsylvania, Rhode Island, Vermont, the Canadian provinces of New Brunswick, Newfoundland, Nova Scotia, Prince Edward Island and Quebec, as well as the United Kingdom.
Media Contact:

---
About Bunker Hill Community College
Bunker Hill Community College is the largest community college in Massachusetts, enrolling approximately 18,000 students annually. BHCC has two campuses in Charlestown and Chelsea, and a number of other locations throughout the Greater Boston area. BHCC is one of the most diverse institutions of higher education in Massachusetts. Sixty-five percent of the students are people of color and more than half of BHCC's students are women. The College also enrolls nearly 600 international students who come from 94 countries and speak more than 75 languages.