Press Release
Bunker Hill Community College Student Joe Orlando Gutierrez Estupinan is Named Jack Kent Cook Undergraduate Transfer Scholar
Peruvian immigrant and biomedical engineering student will continue his undergraduate studies at Cornell University
Thursday, June 30, 2022
Bunker Hill Community College (BHCC) graduate Joel Orland Gutierrez Estupinan was named an Undergraduate Transfer Scholar by the Jack Kent Cook Foundation—one of 100 community college students nationwide to receive the prestigious award, which provides transfer students with up to $55,000 a year to complete their bachelor's degrees.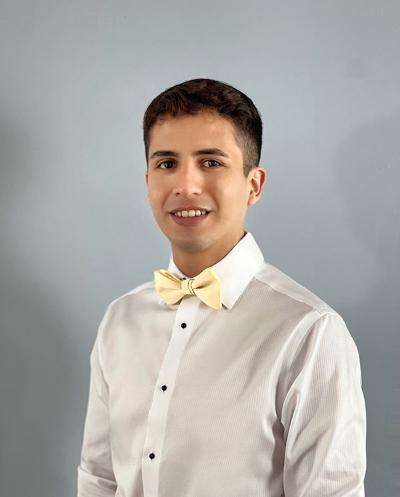 "Receiving the Jack Kent Cooke Foundation Transfer Scholarship demonstrates that all the sleepless nights and entire weekends at home to work hard in college and pursue my dreams of becoming a cancer-focused biomedical engineering researcher have paid off," Gutierrez Estupinan said. "As a first-generation and Latinx student, this prestigious scholarship is such a great honor for me because it will allow me to not only represent my home community, Peru, but also to leave the name of Bunker Hill Community College on a high note throughout the country."
New Cooke Undergraduate Transfer Scholars will receive comprehensive educational advising to guide them through the process of transitioning to a four-year college and preparing for their careers. Along with financial support, Scholars will additionally receive opportunities for internships, study abroad, graduate school funding, and a connection to a thriving network of over nearly 3,000 Cooke Scholars and Alumni.
This year, more than 1,200 students from 332 community colleges applied to receive the Cooke Undergraduate Transfer Scholarship. The Foundation evaluated each submission based on students' academic ability and achievement, financial need, persistence, and leadership.
"Bunker Hill Community College exists for students like Joel: to open opportunities for those who may not otherwise have the chance to find college and career success," said BHCC President Pam Eddinger. "We are so proud of Joel and all he has accomplished, and we'll be rooting for him as he takes the next steps in his journey."
Gutierrez Estupinan immigrated to the U.S. from Peru almost three years ago and enrolled in the Bridge to College program at BHCC, which eventually led to him enrolling as a degree student at the College. As a BHCC student, he completed four honors projects and worked on research projects at Harvard and MIT.
"I am truly grateful to have had the opportunity to be part of the BHCC community," Gutierrez Estupinan said. "Every step I have taken, including the Jack Kent Cooke Scholarship, has been possible thanks to the unconditional support of its faculty who are always willing to support students beyond all their duties."
In the 2020-21 academic year, four-year colleges and universities saw nearly 200,000 fewer transfer enrollment applications nationwide, reflecting the pandemic's disruptive effect on students and their plans for college. Despite that decline, the Jack Kent Cooke Foundation welcomed its largest class of Scholars to date, highlighting the talent and achievement of hundreds of community college students across the country. Considering growing financial hardship for so many families, the Jack Kent Cooke Foundation also increased the maximum award amount by an extra $15,000 to ensure students can focus on their studies while enrolled.
Media Contact:
Brendan P. Hughes, Director of Public Relations
Bunker Hill Community College, Boston, MA 02129
Phone: 646-245-0112; Email: brendan.hughes@bhcc.edu
---
About Bunker Hill Community College
Bunker Hill Community College is the largest community college in Massachusetts, enrolling approximately 18,000 students annually. BHCC has two campuses in Charlestown and Chelsea, and a number of other locations throughout the Greater Boston area. BHCC is one of the most diverse institutions of higher education in Massachusetts. Sixty-five percent of the students are people of color and more than half of BHCC's students are women. The College also enrolls nearly 600 international students who come from 94 countries and speak more than 75 languages.