Exonerated Boxer Dewey Bozella Gets One More Shot
Friday, March 3, 2017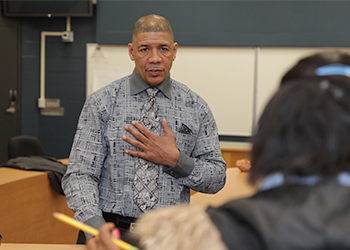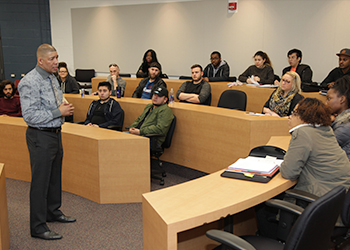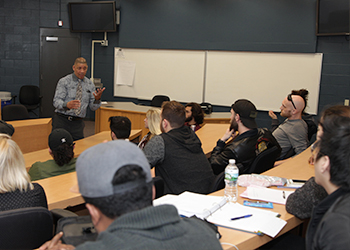 At the event, Bozella shared experiences of hardship from his early life in Brooklyn. As a nine year-old boy, he witnessed his father beat his mother to death. After spending his adolescence in the foster care system and on the streets, Bozella found his calling in boxing.

"I wanted to be accepted," said Bozella, "And it was that desire that led me to hang out with the wrong people and do all of the wrong things." Determined to make a life for himself Bozella moved from Brooklyn to upstate New York. But, in 1983, his life was forever altered when he was wrongfully convicted of a murder he did not commit.

During his presentation, Bozella asked the audience: "What would you do if you didn't have fear?" He described how it took overcoming his fears to have the commitment and determination to make positive changes in his life, despite his incarceration. "It was my metamorphosis," Bozella said.

Over the next 26 years Bozella spent in New York's Sing Sing Prison, he earned his GED, a bachelor's degree and a master's degree. "When you talk about change," Bozella said, "That's me." In the face of so much adversity, Bozella dedicated his time to supporting other inmates at the correctional facility through HIV/AIDs counseling and Substance Abuse programs. He also directed his energy to the ring, becoming the prison's light-heavyweight boxing champion.
His lesson for students is to be sincere in everything you do. "What is important to you," he asked. "What is it out of life that will make you a better person? For those of you who are young, run with your youth. If you want something, and you feel it in your brain and heart, do it."

Bozella attributes his determination to developing the power to forgive others. "How can I ask anyone to forgive me if I can't forgive," he said. He urged students to let go of their pain, the things that leave them unsettled, adding: "Now that I can forgive, I can move along with my life, make my own choices, my own decisions."

Prior to his presentation, Bozella enjoyed lunch in the Mary L. Fifield Art Gallery, and spoke to students studying the power of narrative in telling one's personal story and criminal justice through Learning Communities Clusters.
There, he advised students: "Don't let anyone tell you what you can't do. Believe in yourself. It may take a while, but you're going to get what you asked for."

Bozella remained unyielding in his innocence until his exoneration. In 2005, he began working with the Innocence Project. However, the physical evidence from his case had been destroyed. Convinced that he was wrongfully convicted, the organization contacted WilmerHale, a New York City law firm who uncovered additional evidence from the arresting officer that was never released to Bozella.

In 2009, his case was dismissed. Two years later, he received the prestigious Arthur Ashe Courage Award, previously awarded to Nelson Mandela, Muhammed Ali and Billie Jean King, for his perseverance. Since his exoneration, Bozella has dedicated his time to working with at-risk youth in Poughkeepsie, NY, and Newburgh, NY. He is currently pursuing a career in acting and film and was recently cast in My City. He hopes to open his own gym to help take at-risk youth off the streets, and into the ring.

Culminating BHCC's speaker series on criminal justice and policing in urban neighborhoods is an upcoming event with former Boston Police Commissioner Ed Davis. Take part in the conversation:

Difficult Dialogues
Ed Davis | March 23, 2017
Policing in America: The Changing Landscape of Our Cities & Law Enforcement's Role in Protecting Our Communities
Former Boston Police Commissioner Ed Davis, who was at the forefront of the emergency response to the 2013 Boston Marathon Bombing and the arrests that followed, talks about the need for fundamental reforms to policing and the criminal justice systems.

Learn more about our speakers at bhcc.edu/speakers.