More BHCC Highlights from Achieving the Dream's Annual Conference
Tuesday, February 26, 2019
Bunker Hill Community College student Cam Do, along with seven students from all over the U.S., were recognized at last week's Achieving the Dream (ATD) conference in Long Beach. Do wrote a poem about her journey from Vietnam to the United State in search of an education. She recited her poem during the ATD opening ceremony in front of 2000 people.
A Poem by Cam Do
I am from a country mostly known for the war
The Vietnam War
I am from the struggle to make ends meet
from rivers that flow unequally
And from battles to build a path out of poverty
I am from a family where both parents did not finish school
because they needed to prioritize their basic needs
But I am also from unyielding dedication
And refusal to surrender
I am from such humble background and limited local growth
That my only resource was Disney Channel
And I can proudly say
Hannah Montana taught me English
I am from the realization that rather than bombs and guns
Education is the most powerful weapon to change my life
---
I am from relentless struggle
Travelling nearly 9 thousands miles to the States
As an international student
For a brighter future
I am from disadvantaged economic situation
There is no doubt in my mind
The choice to start at Bunker Hill Community College
Was the best decision in my life
I am from a hungry stomach
And the fight to fill my own
I have great appreciation
For my community college acknowledging
hunger
as a huge external issue to students
And I am from great honor
That my peers elected me as Student Trustee
To represent their voices on important college-wide matter
I am from an extrovert world
That cannot stop talking
That creates the myth that introverts cannot be leaders
But this woman objects to that stereotype
And believes she has the power to lead people too
I am from Every Voice Coalition
An advocacy group on sexual violence in Massachusetts
I am from a conservative culture
Where women voice are underrepresented
But I dare not to stay silent
I dare to speak up
I dare to talk to legislators
I dare to sign a petition
Along with 90 thousands supporters
To address sexual assault issues
And I dare to take the lead at my own campus
To lay a pathway for others to follow
I am from poverty to advocacy
I am from insignificance to influence
And I am from transformation to leader of the next generation.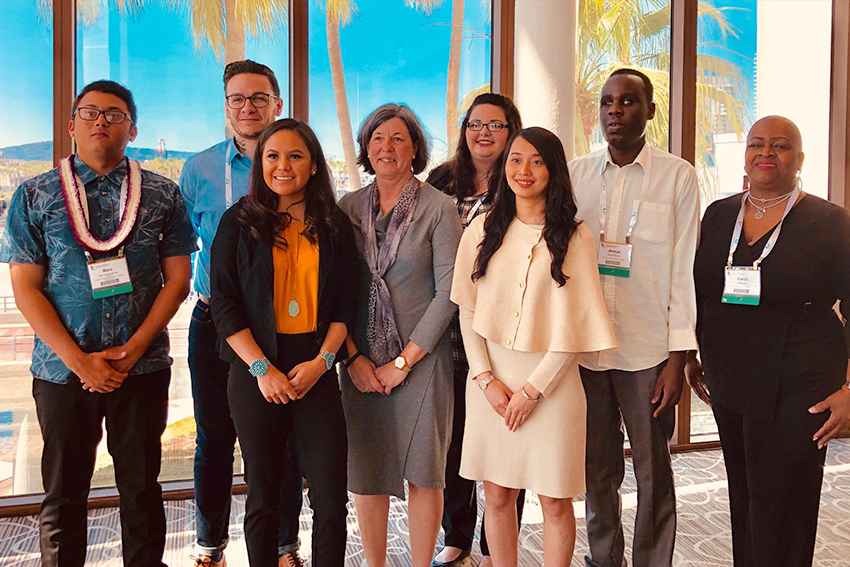 View more from the Achieving the Dream Conference
View photos, tweets and more on our event recap. The ATD's 15th annual DREAM Conference is a convening of experts from colleges throughout the U.S. to examine strategies for critical issues facing two-year and four-year colleges and universities. BHCC President Pam Eddinger gave remarks at the plenary session where she highlighted milestones of ATD over the past 15 years and introduced the ATD scholars, including Cam. Eddinger also presented on a panel discussing innovative collaborations, transforming the student experience: making dreams come true.