ENGAGED! RESILIENT! GLOBAL! Selections from BHCC's Teaching and Learning Collection, with Faculty, Resident and Visiting Artists-

November 15, 2021 - February 26, 2022
A group exhibition that illuminates the power and importance of international education and global exchange. Experience art that connects cultures, crosses borders, and envisions a bold new future.
Featuring Roya Amigh, Robin Chandler, Julio Flores, Gillian Frazier, Deta Galloway, David Goldman, Maddu Huacuja, Renold Laurent, Alberto Lanzano, Yary Livan, Woomin Kim, Proshot Kalami, Jimmy Valdez Osaku, Consuelo Perez, and Wen-ti Tsen
Jimmy Valdez Osaku- Creative Exile
September 7, 2020 – April 23, 2021
The Creative Exile of Jimmy Valdez Osaku, at the Mary L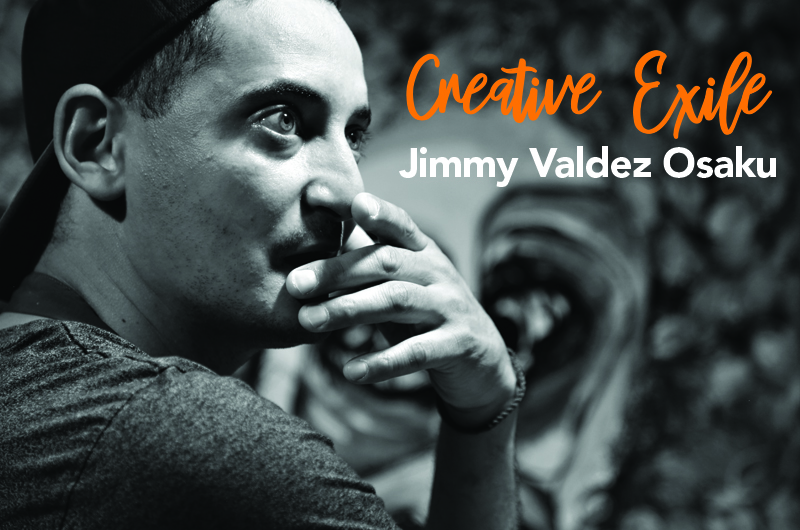 . Fifield Art Gallery from September 7, 2020 to April 23, 2021, features the art and poetry of New York-based Jimmy Valdez Osaku in a powerful exploration of loss, loneliness, and endurance. Organized just as COVID-19 was shutting down the United States, the exhibition includes older works plus paintings and writings produced in response to the pandemic. Valdez's art chronicles his journey, struggles as an immigrant, and suggests that we have all become exiles in a virus-plagued world.
According to poet, translator, and educator Rhina P. Espaillat, BHCC's 2019-2020 Distinguished Artist Scholar in Residence, "Jimmy's work reflects the divided self straining to create its own autobiography, speaking to what it contains and is constantly aware of, but cannot unify."
The full exhibition catalog contains a selection of the artist's poetry translated by Espaillat, as well as reflections from BHCC Faculty, the artist himself, and others.
View Jimmy Valdez Osaku Catalog
Maddu Huacuja - Open the Way

October 10, 2019 – February 21, 2020
ARTIST STATEMENT
"Open the way" is Maddu Huacuja's meditation on movement, life, migration and the journey of life to death, expressed in the paintings and drawings featured in this exhibition. Four paintings, three drawings, and three oil pastels comprise the presented trajectory of Huacuja's engagement with the present and the transcendent and with the material and evanescent aspects of history and existence.

Huacuja's path to this exhibition began with her lifelong exploration of her identity, as a Mexican-American, and her existence as a global citizen. As her life has unfolded, Huacuja has explored her mixed selves combined with her interest in diverse environments and in the animals and peoples who share our living space. One of her early interests was the Amazon jungle, with its rich and diverse life and its peoples, myths and iconic animal life. From her regard and research, she began, in the past ten years, to create a series of drawings and paintings within which she explores subjects and themes focused on her desire to capture that which is fleeting and vanishing in the Amazon. Yet, even as the jungle diminishes, its continuing life still retains its continuity and connections with Nature.
Within the world Huacuja has created, she follows a train of thought that links animals and people, who merge into one another in a continuing cycle of shared existence. Migration and movement have been a part of human existence since the first homo sapiens walked out of our ancestral home in Africa and began to wander and populate the world. Migrations caused by natural disasters, such as fire, flood, drought and the failure of land to produce abundant food define Latin America's history in significant ways. From the abandoned cities of the Maya, the Aztec and the Moche, which became lost in time, when they could no longer sustain their peoples, to the more recent waves of migrants coming north to seek new places to live, the movement of people and animals in search of a sustainable life is part of Latin American identity.
This exhibition is an opportunity for spectators to stop and consider the subjects and themes she presents to the spectator in the works that spring from her desire to enable others to understand why what is happening to the helpless and unfortunate matters. Through the artist's representation of the environments, animal species and humans being impacted by the forces that destroy their homes and lives, she enables her audience to commune with their plight and with her emotional response to their reality. In so doing, Huacuja leads her audience to its reception of her message, one which delineates this crucial moment in human history in which we currently find ourselves.
Open the Way
An exhibition of works that celebrate dignity and cultural wealth by dispelling the myths and misperceptions about migrants.
Things Left Unsaid: Women Artists Share Work about the Body, Memory and Pain

March 30 – December 18, 2020

Each piece in Things Left Unsaid represents an act of courage. The nine artists in this multimedia, multi-dimensional exhibit have made visible something that is often minimized, silenced or erased from a woman's life – pain, sexual desire, illness, body image, faith, and the longing for a better life. Each work is a signature piece that confronts issues both historic and contemporary, both local and global. Some of these pieces are so deeply personal that viewers may feel as if they are being drawn into an intimate conversation with the artist. Others dwell on universal themes of memory, loss, and journeys into the unknown. Some of these pieces depict experiences that are difficult, even horrific, but the art is also suffused with the willingness to endure.

Interviews with several of the artists in this exhibition have been recorded, and may be used to enhance teaching and learning at the College. To view interviews or schedule a remote classroom visit with an artist from Things Left Unsaid, please contact Denise Turner in the Office of College Events and Cultural Planning at dwturner@bhcc.edu.